Windows Phone 8.1 + Lumia 521 Equals An iPhone Alternative
With the Windows Phone 8.1 and Lumia Cyan Updates that T-Mobile is rolling out, owners of the Lumia 521 might find that their current smartphone is just as capable as Apple's iPhone 6 and more.
Posters in Windows Phone Central's community began reporting that they were being prompted to download Windows Phone 8.1 to their smartphones earlier today. Independently, GottaBeMobile's own Lumia 521 is showing the update too.  The Windows Phone 8.1 update coming to the Lumia 521 is important for a number of reasons.
Windows Phone 8.1 is a pretty huge update. There are touch-ups and changes to the entire Windows Phone operating system, some of which make the device just as capable as the iPhone. Cortana is a virtual assistant that users can give commands with voice or text. She learns about your habits and saves that information for use when it's relevant. She can also be used as a way to create appointments and reminders without touching your device at all. It's the Windows Phone 8.1 Update that adds the Cortana.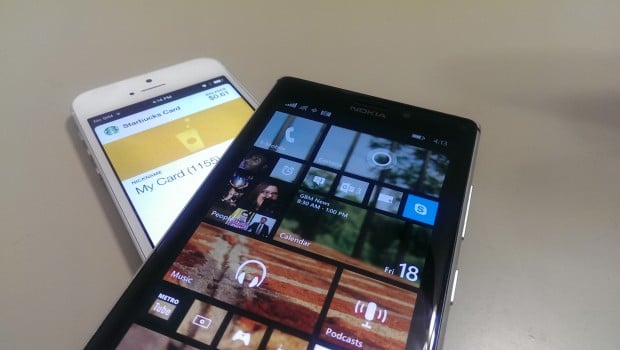 Every iPhone running iOS 8 or iOS 7 includes something called Control Center. Swiping up anywhere surfaces Control Center. From there, turning on Wi-Fi or Airplane Mode is pretty quick and easy. Swiping from the top of the screen reveals notifications. Microsoft didn't copy these for the Windows Phone 8.1 Update on the Lumia 521 wholesale. Instead, it created one interface to quickly change settings and look at the latest app notifications. This screen is called the Action Center. Swiping down from the top of your screen reveals the Action Center.
Start Screen customization is big in the Windows Phone 8.1 Update too. Once the download is complete Lumia 521 owners will find that they can choose from an updated slate of tile colors. In addition to that, they'll be able to set how big tiles appear on the screen. Folders still show users updated Live Tiles, but they also make organizing relevant apps a lot easier. Finally, users can finally set a picture as their background.
Passwords, color customizations, app purchases and even browser history are synced between Windows Phone 8.1 Lumia 521 devices and Windows 8.1 PCs, laptops, desktops and convertibles. In this way, Windows Phone 8.1 brings Microsoft devices closer together, more like what they expect when they purchase an iPhone 6 and a Mac.
Windows Phone 8.1 strips out the Music & Video hub and replaces them with modern Xbox Music and Xbox Video apps.
Read: Windows Phone 8.1 Review It's An iPhone, Almost  
Numbers are important too. Microsoft fully detailed the Windows Phone 8.1 update at an event back in April 2014. Since then it's been slowly rolling out to users of Windows Phones on every carrier. The Lumia 521 and Lumia 520, which it is a derivative of, make up a huge number of the people with Windows Phones.
All Windows Phone 8.1 upgrades are slowly handled overtime. When your Lumia 521 is ready to be upgraded, chances are you'll see a notification asking you to make the leap. If your T-Mobile Lumia 521 hasn't notified you of an update yet, you'll can check to see if it's available from the Settings app. Just look under Phone Update.
Windows Phone 8.1 is a big update so you'll want to make sure you're connected to Wi-Fi before you try to update your Lumia 521. It's also, very, very important that you plug in your T-Mobile Lumia 521 before you began the update. The last thing you want is to have your Lumia 521's battery die before the update is finished. While the update is downloading you'll be able to get calls, listen to music and check your email. Once the installation hasn't started you won't be able to use your Lumia 521.
Last week T-Mobile began updating the Lumia 925 to Windows Phone 8.1. The operating system is already running on the network's newer Windows Phones.

As an Amazon Associate I earn from qualifying purchases.