Windows Phone 8.1 Review: It's an iPhone Killer, Almost
It's been a long time since Microsoft found itself even close to competing for iPhone and Android users.
Windows Phone, the mobile operating system that Microsoft sells to smartphone makers for inclusion in their devices, has always been interesting. Its Live Tiles, app icons with auto updating information and pared down user interface, arguably set new standards for other mobile operating systems. HTC is believed to have modeled its Blinkfeed news and social networking app on Windows Phone's Live Tiles, and the flat colorful interface that debuted in iOS 7 first showed up on Windows Phone.
The problem for Microsoft, and why Windows Phone 8.1 is such a big deal, is that Windows Phone has never found itself on the receiving end of much praise because there were always things that were missing. There was always that one feature that the iPhone or Android had that Microsoft hadn't managed to integrate yet.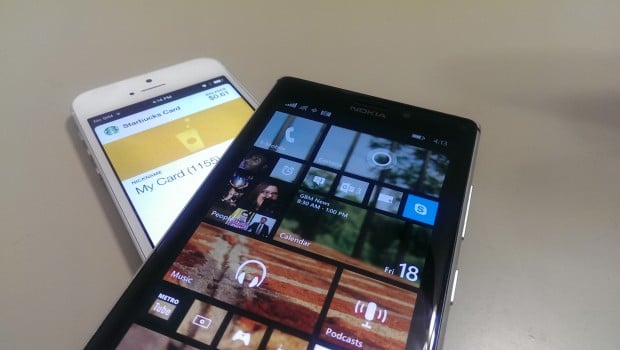 The Windows Phone 8.1 update, which will begin going out to current Windows Phone users over the next few months and show up on new devices built especially for it in May, isn't an operating system that re-imagines a single thing. It doesn't come equipped with some revolutionary feature that almost instantly makes the iPhone and Android devices irrelevant. Instead, it's an operating system that plugs holes in Windows Phone's defenses and ensures that Microsoft isn't behind in terms of overall feature set. It also reveals the reason why some users would be better off purchasing a Windows Phone device over an iPhone or Android device for the first time.
Read: 5 Hidden Windows Phone 8.1 Features iPhone Users Would Kill For
New Features
Customizaiton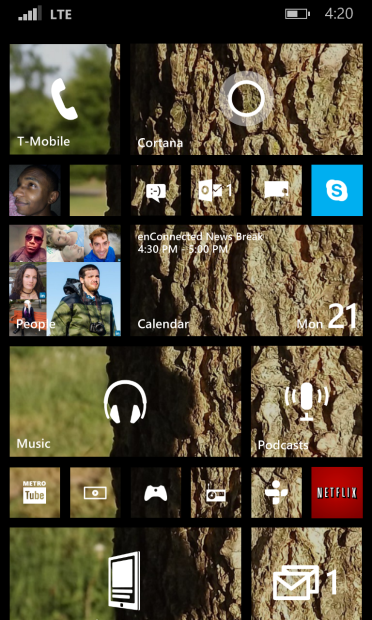 No, there's not a single feature that it'll make new smartphone buyers automatically consider Windows Phone over iPhone. That's a good thing though, because Windows Phone 8.1 comes with so many new features that identifying one as a single "iPhone killer" or "must-have" would be ridiculous.
First there are the personalization features that finally put Windows Phone on the same footing as the iPhone. It used to be that Windows Phone users could only rearrange Live Tiles in the order of their importance, resize tiles and chose an accent color. Starting with Windows Phone 8.1, users can also add a background to their Start Screen that shows up in their Live Tiles with a parallax effect that's similar to what users get in iOS 7. It's cool, and a very smart way to add some personalization. I remember thinking that Microsoft had overthought what users needed when they said they wanted backgrounds, but after spending a week with this new design, I'm inclined to think that it looks pretty beautiful. The added extra row of Live Tiles also makes the user experience more customizable.
Windows Phone 8.1 users can expect to get apps that'll allow them to customize the look and feel of their lock screen too, at least that's what Microsoft said during their announcement of Windows Phone 8.1. The feature hasn't made its way into the Developer Preview version I have yet, but whenever it does arrive it's only something that Android can match today.
Sense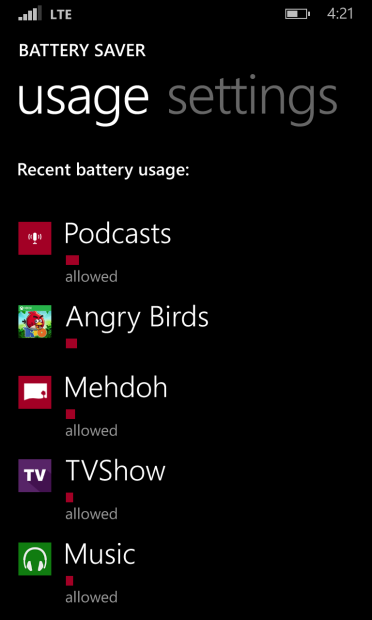 Battery Saver, Storage Sense and Wi-Fi Sense are completely designed to make user's lives easier.
Battery Saver is so named because it allows users to track how much power individual apps are using to the last detail. Users can also switch on a power saving mode to ensure that their device lasts long enough until they can find a power outlet.
Of the three, Storage Sense is what I think potential iPhone users would appreciate most if they made the switch to Windows Phone. Unlike the iPhone, which doesn't support external storage, Windows Phone does, and thanks to Storage Sense users can offload apps and games directly to a microSD card. Better yet, users can set a microSD card as the default place for storage different types of media, like music and video.
Finally, Wi-Fi Sense automatically shares user's Wi-Fi network and password information with other users so that you don't have to keep it on a slip of paper or go rummaging through folders when there's company over. It'll automatically enter a fake email address and agree to any Terms of Service on public Wi-Fi networks as well.
These Sense apps go a long way toward making the Windows Phone user experience just as easy to use as the iPhone. None of them are particularly glamorous but they each get rid of a specific pain point in having a smartphone, especially for users who've never had one before. There's also Data Sense, which isn't new, but it does allow users to fine tune their data usage unlike the iPhone.
Internet Explorer
Internet Explorer has also seen some choice upgrades here. Microsoft has added a Reading Mode so that uses can get rid of all the extra formatting that's around an article and get a basic eBook-like reading experience. Internet Explorer on Windows Phone users can also download files directly to their device going forward. Once Windows Phone apps have been updated, users should be able to make use of files downloaded in Internet Explorer. Windows Phone 8.1 now syncs passwords, browsing history and favorites from Windows 8 devices too.
Cortana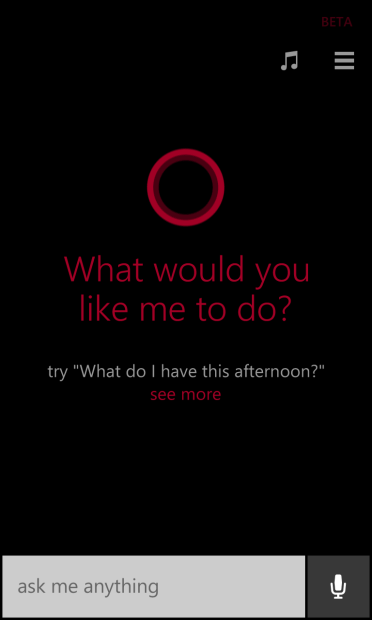 Cortana, the new voice assistant that's built into Windows Phone, is most often compared to the iPhone's Siri voice assistant. Really, it's a combination of both Siri and Android's Google Now search system.
Essentially, users talk or type messages to Cortana. These messages range from questions like, "What's the weather like outside?" to orders like setting reminders and playing a specific artist in their music collection. Cortana also actively monitor's users emails, phone calls and location. It uses this information to provide Windows Phone buyers with information they need to know in real-time. For example, after Cortana has been enabled for a few days, she'll learn where a user works and lives, then use that information to ensure that they leave for work on time and take real-time traffic conditions into account.
I was a big fan of Siri during my time on the iPhone 5s and missed the feature dearly when I switched back to Windows Phone. Where Cortana bests Siri and Google Now is in nice-to-have features. Unlike Google Now, users can tell Cortana not to monitor their email or location. They can also remove any information that they're not comfortable with her having from her Notebook. Cortana also includes hooks for app makers to hook into. This makes her infinitely more extensible than Siri and ensures that users will keep getting cool new commands for Cortana long after the Windows Phone 8.1 update is available.
Improvements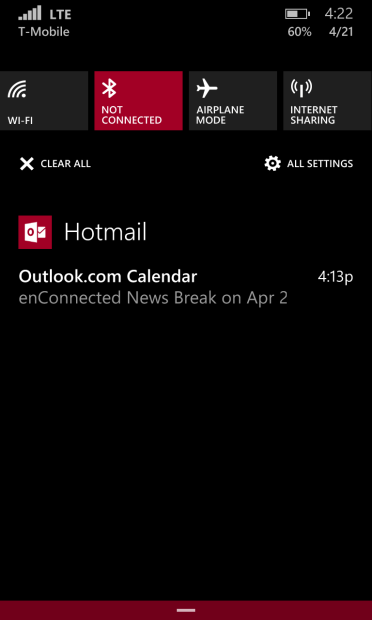 Other notable key features include a new notification area and settings shortcut system. Named Action Center, users can add links to different settings so that they can quickly access them without diving into the Settings app. Action Center's notification system also makes Windows Phone infinitely more organized since users don't have to rely on one-time toast notifications and Live Tiles. It's not that neither of those were useful, they were. However, having Action Center just makes Windows Phone 8.1 a bit easier to use and manage.
Microsoft has also split the volume control so that users can adjust how loud a video is playing without accidentally silencing their device's ringer or notifications.
Windows Phone 8.1's People hub has always been very unique, it allowed users to follow their friends and family on Facebook, Twitter and LinkedIn without having to download separate apps. This hub always put the contact apps of the iPhone and Android to shame, in my opinion. Microsoft seems to have rethought this idea though. Going forward, the People app – Microsoft has essentially ditched all of its old Hub areas – will allow developers to integrate into it. As such, the People app won't replace the Facebook app necessarily, but it will enhance user's experience. A new version of Twitter will also integrate it the app as well.
The hope is that more and more social networks will add functionality to the People app and make it infinitely more usable than the Contacts app on the iPhone.
Features Compared
Of course, Windows Phone 8.1 won't exist in a vacuum. The iPhone has existed since 2007, and revolutionized the way we think of mobile phones. I think it's always important to keep that in mind whenever new versions of Windows Phone or Android debut, because for all their new features, it's that gold standard that they're going to be compared to.
Siri vs. Cortana
Overall, Cortana wins out over Siri simply because she has the added features of Google Now and developers can add features to here from their apps. That doesn't mean that she's better overall. Even in questions where Siri gave me personal replies, Cortana simply refers me to a Bing Search. I presume that she'll pick up more of those personal responses over time, but right now I feel like they're a bit sparse.
Start Screen vs. Home Screen
Hands down, the Windows Phone 8.1 Start Screen makes the iPhone 5s home screen look ridiculous in comparison. The iPhone's small icons that can't be personalized or resized in order of priority feel very limited. That Microsoft was smart enough to embed background images in Live Tiles instead of merely putting them behind the tiles was pretty smart. Live Tiles have always been more useful than the iPhone's little numbered badges anyway. Not having to dive into the mail app in Windows Phone to see who has sent me an email never gets old. Being able to control the information density using the Show More Tiles option is very useful too.
Experiences Compared
Features and a new operating system are all cool, but the real question is and will always be what all of these new features and changes mean for the real user experience. At this point it's a bit hard to quantify Windows Phone 8.1 in this manner, the operating system will come preloaded onto devices made especially for it pretty soon. Until then we can only compare it to how it behaves on Windows Phone devices today, and in my case that means the Nokia Lumia 925 that debuted last May.
Apps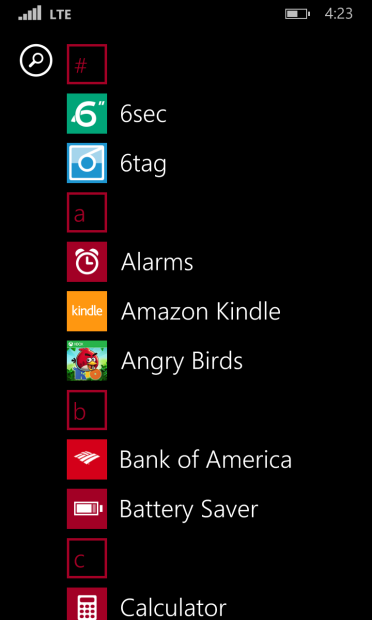 As compared to the iPhone 5s, Windows Phone 8.1 apps are still compelling, even if they aren't as plentiful. There are native apps for just about every major service. Twitter, Facebook, Netflix and Instagram are all here and each adds a slight Windows Phone twist on their user interface. That is, except for Netflix who, like many third-party app developers for Windows Phone, seems to be fine with offering Windows Phone 8.1 users the bare minimum in features. For example, Netflix for iPhone includes updates telling users when titles they might like appear for streaming. The Windows Phone version doesn't. It's a story that often repeats itself on Windows Phone. Many of big name apps are available, they just aren't as feature rich as what you get elsewhere. The Windows Phone Store currently offers 250,000 apps as compared to the iPhone's 1,000,000+ apps.
Apps that aren't available have third-party replacements. For example, Google doesn't make any of its mobile apps available on Windows Phone since it is Android's main competitor. Still, apps like MetroTube enable Windows Phone users to watch YouTube videos without ads and many other apps replace must-have Google experiences.
Windows Phone 8.1 adds behind the scenes changes for apps, like the new Action Center area, but it's up to developers to take advantage of them. Starting with this release, Windows Phone and Windows Apps can be purchased and used on multiple devices. That means purchasing a game on Windows Phone will unlock its counterpart on Windows notebooks, tablets, desktops and 2-in-1s. No other computing platform does this. iPhone apps can only be used on the iPad.
I should note that my early build of Windows Phone 8.1 did hinder performance in some apps. In fact, TuneIn refuses to function correctly. Presumably, that'll be fixed before it arrives on new phones and as a free update.
Battery Life
I'm of the opinion that battery life is very dependent on the device Windows Phone 8.1 is installed on. Windows Phone 8.1 didn't wreck my Lumia 925's all day battery life, but this is only an early look.
Read: 3 Ways the Nokia Lumia 925 Beats the iPhone 5s
Display
Windows Phone 8.1 allows for hardware makers to include screens as big as 6-inches in full high-definition. For sure, this gives Windows Phone users more choices than the 4-inch display that's become standard on the iPhone.
Accessories
One of the biggest knocks on Windows Phone has always been its accessories ecosystem. Essentially, Microsoft abdicates accessory responsibility to hardware makers themselves. As such, Nokia devices like the Lumia series have a handful of Nokia-made cases, chargers and extras. I should note that third-party case makers like Otterbox also offer Windows Phone cases.
Outside of Nokia's devices the accessory situation goes downhill because Microsoft doesn't offer a Made for Windows Phone program like Apple does with the iPhone. This means that there are very few Windows Phone hardware accessories like docks. That isn't to say that none are available. Windows Phone uses a standard microUSB port, so most hardware accessories that don't require an app to function do work.
Making The Right Choice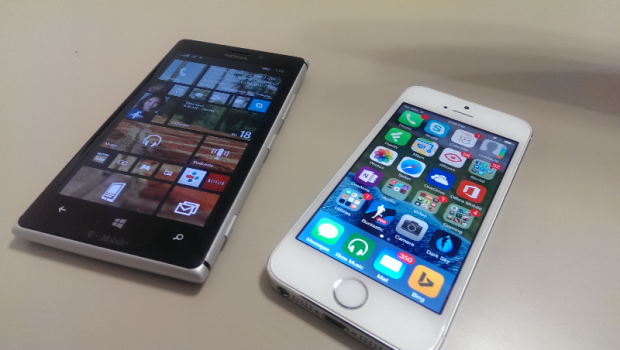 I'll lay my cards on the table right now. If you have a Windows 8 tablet, notebook or anything else, I think a device running Windows Phone 8.1 might be a better Android alternative than the iPhone. At this point, the iPhone only enjoys three key advantages. The first is that it's better for users who have a Mac or have used the iPhone for a long period of time. The second is that any iTunes Store purchases you've made are available. Finally, Microsoft is doing the bare minimum when it comes to enabling accessory makers. Outside of those, Microsoft has virtually wiped away any true iPhone advantage for Windows Users, and it's done so by melding the philosophies of the iPhone and Android.
Like the iPhone, Windows Phone is built to be easy to use and almost magical. Settings, passwords, tabs, music and video purchased from Xbox Music sync over automatically. Restoring a Windows Phone 8.1 device immediately resurfaces a user's content. Like Android, Windows Phone 8.1 is also extensible and will come on dozens of different devices.
With these new syncing options for Windows 8 devices, shared Windows Store apps and Cortana, Windows Phone 8.1 isn't just some throwaway update. Microsoft has caught up and Windows Phone is more viable than ever. If you're a new smartphone buyer with a Windows machine, or even an Xbox, there's no better ecosystem to join.

As an Amazon Associate I earn from qualifying purchases.