Windows Phone 8.1 Update On the Lumia 925: Impressions & Performance
For so long, Microsoft's Windows Phone operating system seemed to going no where. There where devices, that could compete with the iPhone and Galaxy S5 on a hardware level, but too often it was the software running on these phones that left a lot to the imagination. Microsoft made it clear that it hoped to change that this year with Windows Phone 8.1, but has it and the latest Windows Phone 8.1 update lived up to the hype?
New Windows Phone 8.1 Features on the Lumia 925
As we discussed back in April when Microsoft revealed Windows Phone 8.1 and starting releasing it to developers, the operating system is a big deal. It's not that Microsoft changed the game with any of the new features. No, many of them are inspired by what users can do on other platforms. The trick is that Windows Phone 8.1 delivers so many of those things that Windows Phone sorely lacked that it feels like a significant upgrade worth of more than just that ".1" addition to the Windows Phone 8 moniker.
Action Center
Microsoft seems to have finally decided to stop finding excuses and deliver users equivalents of popular features found on the iPhone and in Android.  Action Center is such a feature, it's not really new – the iPhone's Control Center area and Notification shade predate Windows Phone's interpretation by a mile. Microsoft mixes the two together into one place where users can change their settings and look at their latest email. Action Center is made more useful by the customizable buttons that users add to the top.
Cortana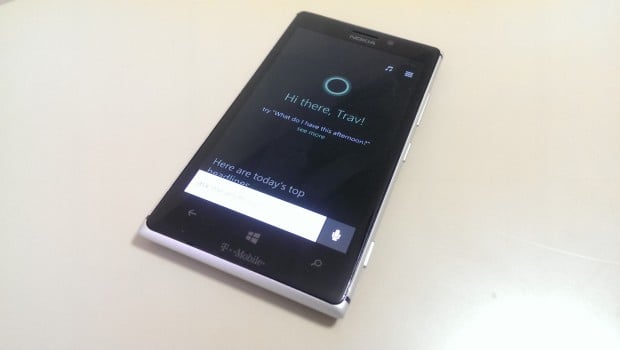 In theory, Windows Phone 8.1 users don't need the Action Center because they already have Live Tiles showing them information. In practice, I've found that the Action Center prevents me from having to crowd my Start Screen with different Live Tiles. I have found myself disappointed that I can't just get rid of a single notification for a single app though.
Windows Phones 8.1's second big feature is probably one you've already seen in Microsoft's ads for different Windows Phones. It's called Cortana, and she – yes, she – is Microsoft's answer to both Siri and Google Plus. Like Siri, you can ask her questions and she'll look for answers. However, she also collects need-to-know information about you, like where you work and who your family is. Any of this information can be deleted from her notebook at any time.  I thought Cortana would be of more use to me when I first downloaded Windows Phone 8.1 on the Lumia 925. In practice, Cortana is a little less useful than I'd hoped she'd be. The traffic alerts she provides are useful. I also like that her Live Tile keeps me informed of need-to-know news updates and weather alerts. However, I don't find myself using her management features a lot. The news she gathers feels rather redundant considering I have a Bing news app too. Also, I don't often eat out, negating the use for her dinner recommendations.
Cortana is great, it's just more useful to someone who lives a more active lifestyle then I do. When I'm in my home office I can rarely find her useful.
Extras
Windows Phone 8.1 introduced a lot of shocking changes, that have worked out far better than Cortana and Action Center. Trusted NFC apps have made pairing two devices or automatically opening apps every bit as useful as it is on Android. My Lumia 925 doesn't have a place to insert SD cards, but Windows Phone 8.1 finally allows users to store apps and media there instead of just supporting internal storage.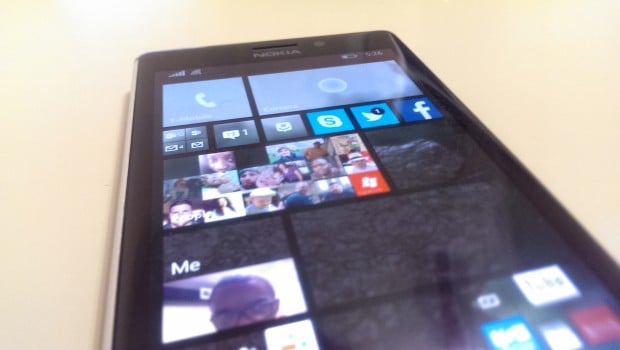 By far, the biggest feature for Windows Phone 8.1 is all the integration with Windows 8.1, Microsoft's operating system for desktops, laptops and 2-in-1s. Changing your Live Tile color and having it sync is great. Having all of your favorites and passwords sync is magical – if not slightly creepy some days. The Windows Phone 8.1 Update that Microsoft released to developers last week finally added folders so that users can group Live Tiles too. Users can add a third row of Live Tiles to their Start Screen, as well as a background image, making the Start Screen more personal.
A new file system finally lets users move media around on Windows Phone internally too. It's another highly requested feature that I don't find myself using often. Still, when I do i'm glad Microsoft added it. Being able to download music through the web browser and add it to my collection then and there is very convenient
Read: Windows Phone 8.1 Review – It's an iPhone Killer, Almost
Performance
Microsoft stuffed so much into Windows Phone 8.1 and the Windows Phone 8.1 Update that it almost feels like a totally different operating system. The constant performance issues don't hurt that perception either.
With Windows Phone 7, Windows Phone 7.5 and Windows Phone 8 performance, was always something that you didn't have to worry about. The only splash screens you saw were the loading screens for individual apps and games. Everything seemed so polished and seamless.
Things haven't felt the same with Windows Phone 8.1 on the Lumia 925. What I have is a current build of the operating system. To be fair, that build doesn't include a separate firmware update for my particular device, which could be causing some issues. Lag surfaces a lot for me lately, like when I'm pulling down to reveal the Action Center. Even worse are the resuming screens I now get when I simply unlock my Lumia 925. Scrolling from the top to bottom of the list reveals some lag.
As I understand it, firmware upgrades are crucial to Windows Phone 8.1, which is probably why I'm seeing these issues. It's my hope that they go away as more firmware updates are released for the most popular Windows Phone devices. Theoretically, I wouldn't see that lag on a more powerful device like the Lumia Icon, but I haven't had an opportunity to test that theory.
With Windows Phone 8.1 and the Windows Phone 8.1 Update Microsoft has delivered an experience that's at least finally comparable to the iPhone and Android in many ways that count. No, this update doesn't magically stuff more quality apps in the Windows Phone Store, but Action Center, Cortana and Windows 8.1 integration were sorely needed. Hopefully, by the time it starts going out to more devices, there'll be less lag.

This article may contain affiliate links. Click here for more details.