Windows Phone 8 Apollo Shows Up In "I'm A WP7" App
While the average Windows Phone user is still working with Windows Phone 7.5 Mango or Tango, Microsoft is working on early builds of Apollo. Microsoft still won't say much about the future update, but through the "I'm A WP7" social app, we know that the company has some working builds running.
WPCentral reports that Windows Phone 8 build 8.0.9662.0 is registered in the statistics of the social app. We're able to confirm that the versions list in the app shows the build at 1 percent of all users.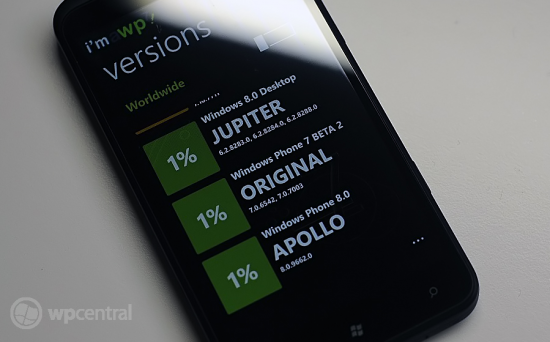 The developer of the app says that the build listed isn't actually working on a device, but an emulator somewhere on the West Coast. WPCentral says that Microsoft began internal testing of Windows Phone 8 on March 30, so this certainly appears real.
Microsoft will likely launch Windows Phone 8 later this year after its big reveal sometime this summer.
Current rumors say that Apollo will feature support for multi-core processors, NFC, and higher screen resolutions. If true, the update  shows Microsoft is still playing catch-up to add features that Android and iOS already have.
The statistics in the "I'm A WP7" also list Windows 8 Desktop as using the app. It's listed just above Windows Phone 8 on our lists, and two above it in WPCentral's.
This could also be from an emulator, or it could give support to speculation that Windows 8 can run Windows Phone apps. The development environments for the two platforms are already very similar.
Both Android and iOS apps work on phones and tablets, so it would make sense that Microsoft would do the same with Windows Phone. If that does happen, it will mean that Windows Phone apps will run on phones, tablets, laptops, and desktops.
That's one thing neither Google or Apple can say about their platforms.