Windows Phone 8 Gets Updated Kindle App
Windows Phone users can expect a new update to the platform's Kindle app that comes complete with all the features they'd expect from an native application for Microsoft's mobile platform.
So what can users expect from the update? For starters, Kindle for Windows Phone 8 now supports fast app resume in Windows Phone. This means that Kindle won't need to almost completely restart itself every time a user switches away from the application to answer a message.
Amazon has added better support for Windows's Phone's native Live Tiles too. Starting with this update, users can pin a book to their start screen and actually see the progress they've made without having to open the application. Users who prefer wide live tiles on their Start screen will find that Kindle's for Windows Phone 8 also showcases a book's cover on their Start screen as well.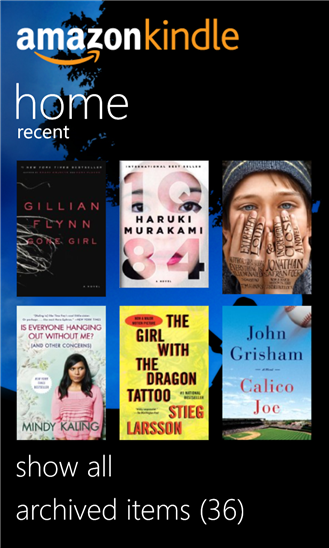 Finally, it seems Amazon has taken this opportunity to address some of the bugs that cropped up since it last updated the Kindle on Windows Phone a year ago. According to the app's update log, Kindle for Windows Phone 8 seems to have stopped causing some books to render blank pages. Amazon has also fixed the dead link that led back to its own online Kindle Store.
Unfortunately, there are still more than a few missing features. iOS and Android users can actually route documents to the Kindle service. That feature remains missing here. Kindle on Windows Phone users don't have access to Amazon's assortment of comics either. Also, there's still no way to highlight text and easily see text you've already highlighted. All told, Kindle for Windows Phone is still miles behind what is available to users on other platforms.
That's a huge problem for Windows Phone users. Microsoft is the only one of the four-largest consumer technology companies to not offer its users a book service directly. Instead, the company counts on Amazon and its Barnes & Noble's Nook platform to supply users with periodicals, books and comics. To date, Nook is only available on Windows RT and Windows 8 devices. Ironically, Nook is run by Nook Media, a joint venture between Barnes & Noble and Microsoft.
Users can download the updated app today, however this update is specifically for devices running Windows Phone 8.

This article may contain affiliate links. Click here for more details.