Windows Phone 8X by HTC Comes To AT&T Before Thanksgiving
Today AT&T announced the Windows Phone 8X by HTC will arrive on its network "before Thanksgiving" in both 8GB and 16GB models.
The 8GB model of the Windows Phone 8X on AT&T will only come in California Blue and Limelight Yellow and will sell for $99.99. The 16GB model of the device will sell for $199.99 and it only available in California Blue. Neither version of the phone has a microSD card slot, so users don't have to option to add more storage space later.
The Windows Phone 8X is a "signature" device for Windows Phone 8, which means Microsoft will put the phone in much of its advertising. The phone has a 4.3-inch 720p display and uses a 1.5 GHz dual-core Snapdragon S4 processor.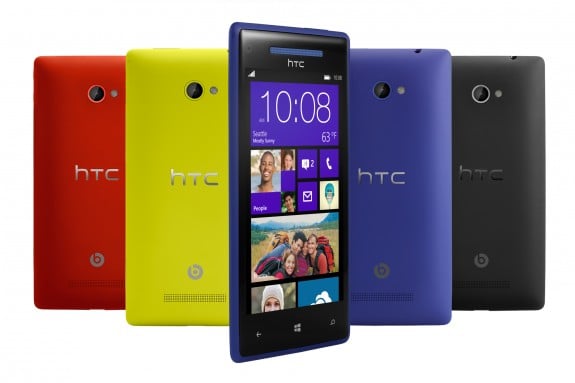 HTC included an ImageChip in the Windows Phone 8X so it can take better photos with its 8MP rear-facing camera and ultra-wide-angle 2.1MP front-facing camera. Reviewers found the camera lacking compared to the other big Windows Phone 8 flagship, the Nokia Lumia 920.
Like other recent HTC phones, the Windows Phone 8X includes Beats audio for enhanced audio. Users can turn the feature off, however, if they don't want the boosted bass that's typically associated with Beats.
Windows Phone 8 doesn't have as many apps as either iOS or Android, but it is gaining new apps very quickly. By early next year Microsoft plans to have 46 of the top 50 mobile apps on Windows Phone 8. That includes games like Temple Run and Angry Birds Space, useful apps like PayPal and Chase Mobile, and entertainment apps like Pandora which will come in early 2013 with a year of free music.
The Windows Phone 8X will also come to T-Mobile and Verizon in the near future. T-Mobile will release the phone on November 14, but Verizon hasn't announced a release date yet. Only AT&T will carry the phone in Limelight Yellow, however.

As an Amazon Associate I earn from qualifying purchases.