Windows Phone Brings Cross-Carrier HD Voice Compatibility Thanks to Viber
In the U.S., the fragmented nature of mobility means that in order to have HD Voice, a number of factors would need to happen–you need a handset that supports HD Voice, the person you are calling will need to have HD Voice as well for rich audio, and your carrier would need to support it on the network level. However, it seems that Windows Phone is breaking free of the HD Voice requirements as it may be among the first platforms to bring enhanced call audio quality to all carriers thanks to third-party VoIP app Viber.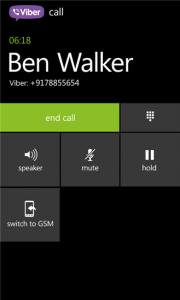 Microsoft announced that Viber has undergone a major update on its blog for Windows Phone 8 that brings free calls, HD Voice calling, and Live Tile support.
The redesigned app offers free calls with HD sound, pinning of conversations to Start via Live Tiles, lock screen notifications, and beautiful improvements to its look and performance for Windows Phone 8. Connect in group conversations with up to 40 people. The app, which syncs directly with your address book, also makes it easy to share photos and your location.
For those who are concerned at VoIP versus native network audio call, this shouldn't be much of a problem. American carriers will be turning to the Internet to deliver HD Voice in the states. On the carrier side, that means calls will be routed over the fast LTE mobile broadband network called VoLTE. This is similar to VoIP, though VoIP generally means WiFi-based calls.
HD Voice will add richer audio fidelity to calls, but in its infancy, many people may not be able to experience the benefits of HD Voice as it requires separate components that are beyond a user's control. First, it's only available on a limited number of handsets. T-Mobile announced that many of its new 4G LTE smartphones, including the iPhone 5, will be HD Voice-compatible. Second, to get HD Voice on both sides of the conversation, you may also need the other caller to have an HD Voice handset. And lastly, the network must support HD Voice specs that are used by the handsets.
Given Viber's foray into the HD Voice arena, it's unclear when Microsoft-owned Skype will also make the jump.
Viber is a free app available on the Windows Phone Store.

As an Amazon Associate I earn from qualifying purchases.