Windows Phone Continues App Winning Streak, Scores MLB At Bat 2013
With arrival of MLB's At Bat 13, Microsoft's Windows Phone 8 has just scored another big win in the application availability department.
Starting today, users can download Major League Baseball's premiere guide for free in the Windows Phone Store. Perspective users will need to move though, as the application's description does note that it'll only be available for free for a "limited period."
At Bat 13 includes all the features users might have come to expect from having used the app on iOS or Android, though users will likely be the most excited about the MLB.TV streaming compatibility that the app brings to the Windows Phone platform. Users can even listen to radio broadcasts of their favorite teams' games, and get updated game results, statistics and schedules for their favorite teams.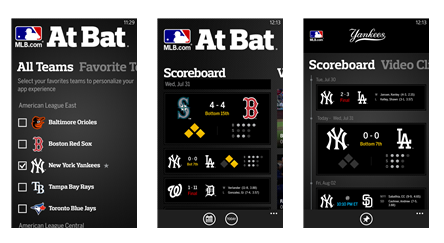 Windows Phone users are also scoring an application that includes of all the features that users might expect from an application that is custom made for Windows Phone. Users can pin a list of each days team match-ups to their Start Screen and even pin teams to their Start Screen to put their favorite team at the forefront of their experience.  About the only thing the application doesn't do is allow users to have match-ups and scores surface on their device's lock screen.
It was only yesterday that ESPN Fantasy Football became available to all Windows Phone users. The application had been exclusive to Nokia users for nearly a year.
While At Bat 2013 isn't exclusive to a single manufacturer, that doesn't mean there aren't some availability caveats. The application will only be available to Windows Phone 8 users. Those who have Windows Phone 7 devices will be able to see the application in the Windows Phone Store, but they won't be able to install it.
Read: Best iPad Sports Apps for Fans to Follow Their Teams
As sports are a huge part of some user's lives, it's important for Microsoft to score high-name applications in the sports genre if it wants to convince users from all walks of life to switch to Windows Phone. The iTunes App Store is filled with advanced sports applications that Windows Phone users have yet to get their hands on.

This article may contain affiliate links. Click here for more details.