Windows Phone Glitch Shuts Out Zune Pass Listeners
Users who have upgraded their HTC-made Windows Phone 7 smartphones to the Mango firmware update are now noticing that their handsets are freezing, or locking up, when they're using Zune Pass. Users have been complaining and documenting their issues on Microsoft's support forum, and according to these users, Microsoft is saying that there may be a bug in the Mango firmware that prevents Zune Pass from working properly on HTC handset. However, some users are saying that the problem has existed since pre-Mango:
Problem: during playback connected via 3.5mm jack to car audio system, Sonos box, wire or wireless headphones randomly locks up between songs.

Occurs during playback of both drm-protected Zune Pass media and drm-free mp3′s.

Work-around: Must remove/replace battery to restart Windows Phone.

Problem is not new to the 7720 Mango ROM. Have had problem since first purchased HD7 phone in February. Zune Pass started March 2011.

Problem has been frequently reported on HTC, Samsung and Dell devices. (google search: wp7 freeze zune playback)

If running a 2nd program in background (like "marathon" app), I can listen to Zune for at least 1 hour with no problems. Marathon is a GPS tracker that allows Zune to play while recording GPS data. Without Marathon running, Zune appears to go into a deep sleep mode that prevents Zune from checking DRM and locks up the phone.

Extremely annoying and ruins user experience. Zune is a fantastic product — Zune on PC + Zune on WP7 is an extremely attractive alternative to iPhone/iTunes.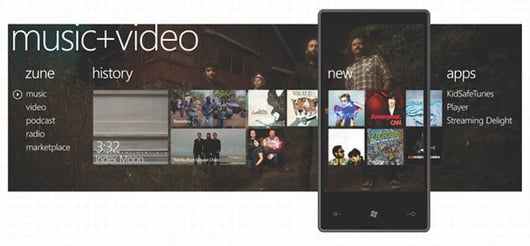 While the above user notes that this isn't specific to Mango, other users are reporting that the problem exists only after the Mango software update has been installed.
Unfortunately, though, to remedy the problem, users would have to remove the battery from their phones to get their devices going. This seems to be a rather unfortunate problem for Microsoft as Zune integration is one of the unique selling points for Windows Phone 7 to music lovers who prefer a subscription-based service rather than a la carte downloads.
Via: WMPU

As an Amazon Associate I earn from qualifying purchases.