Windows Phone Marketplace Hits 50,000 Apps
The Windows Phone Marketplace has hit a fairly big milestone today as AllAboutWindowsPhone is reporting that the app market has surpassed the 50,000 app mark today. It took Microsoft's market just over a year to reach the 40,000 app mark and it took a mere 40 days for it to add the additional 10,000 applications which means that it should be starting 2012 off with some steam.
According to the statistics, apps are being added at a rate of 265 new ones per day with the current selection of software on the marketplace coming from a grand total of 13,002 different publishers.
That 265 figure is up from 165 items per day rate that the market was at back in November when it achieved the 40,000 mark.
The last few weeks have seen a furious growth in the number of applications which can apparently be attributed to two things. First, the release of the Nokia Windows Phones in the Lumia 800 and Lumia 710 as well as the expansion of the marketplace which has grown from 16 countries to 35.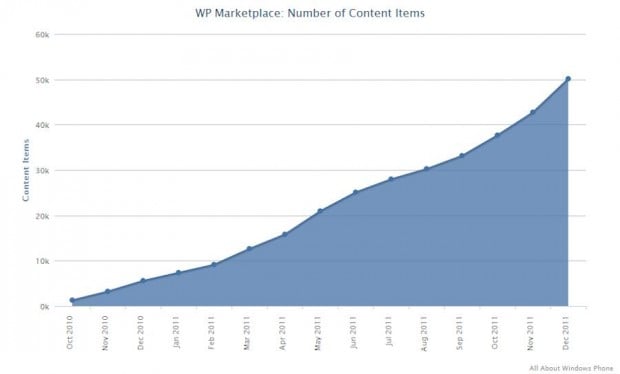 Things should only be getting better for Microsoft and its mobile platform in 2012.
Nokia's first Windows Phone for consumers in the United States, T-Mobile's Lumia 710, is set to arrive in early January. The company is also expected to announce another device or two in the first quarter of next year as well.
Of course, the Windows Phone Marketplace has a long way to go before it has as wide of a collection as the Android Market and iOS App Store. Both of those currently sit at well over 500,000 applications.
Regardless, a great milestone for Microsoft.
Kudos.

As an Amazon Associate I earn from qualifying purchases.