Windows Phone Marketplace Now Boasts Over 70,000 Apps
In just a few short weeks, Nokia and Microsoft will finally release their flagship smartphone here in the United States, a phone that is, of course, the Nokia Lumia 900 on AT&T. Well, those interested in picking it up will be happy to know that Microsoft's app market, the Windows Phone Marketplace, has surpassed the 70,000 app mark , up from 60,000 in January.
At the end of last year, Microsoft's Windows Phone Marketplace was home to 50,000 applications.
In comparison, Apple's iOS App Store has around 600,000 applications while Google's Android Market aka Google Play Store boasts similar numbers. Clearly, Microsoft has some catching up to do in the quantity department but that's something that Microsoft is concerned about.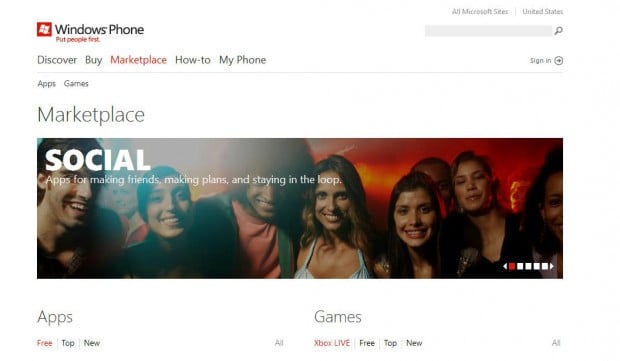 The Redmond-based company has made it clear that it prefers quality over quantity when it comes to applications. Still, it's nice to see the Marketplace offering tons of choices for device owners.
As for the Lumia 900, we're fairly certain that the new flagship will be arriving online on April 8th and in-stores on April 9th. The device is surely on the radar of those already enamored with Windows Phone and we think it will garner the attention of those on other operating systems as well.
It's a device that we awarded with our Best in Show award at CES 2012.
It has a chance to boost the visibility of Windows Phone here in the United States which could ultimately mean more developers signing on board to produce applications for the Windows Phone platform.
We already know of one that will be.
Earlier today, Rovio stated that it would be developing Angry Birds Space for the platform after saying that it wouldn't because of the "cost of supplying to smaller platforms" and the fact that it would take a lot of "work to technically support it."
Via: TechCrunch