Windows Phone Tango Screens Point to Better MMS, More Budget WP7 Devices
Microsoft still isn't talking about Tango, the alleged next version update for Windows Phone 7, but we've certainly been hearing a lot about it from other places.
Windows Phone Tango will bring the mobile OS down to lower-end phones with less RAM, making it possible for more entry-level smartphones running Windows Phones. These new leaked images could confirm that, while showing how Microsoft plans to deal with spec differences in phones.
The screenshots come from Russian site WP7forum, and they show improved MMS with a voice recording app running on a device with just 256MB of RAM. Currently Windows Phone 7 only supports one image per MMS, but these screenshots show two being sent at once. Also shown is a new voice recorder app, so you can record notes and send them as MMS messages. The app should hopefully let users store the voice notes like the iOS Voice Memos app. Not shown in the images is video being sent over MMS, but that should come along with Tango as well.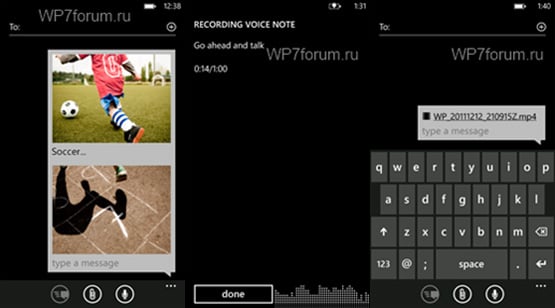 The phone that was said to be running Windows Phone Tango had just 256MB of RAM, half that of the current 512MB minimum for Windows Phone. To deal with the difference, Microsoft won't allow phones with 256MB of RAM to download certain apps from the Marketplace. If the app requires more than the amount of RAM available in your phone, a message will pop up saying that the phone simply can't run the app. Tango is also said to decrease the minimum camera specs to 3MP from the current 5MP minimum.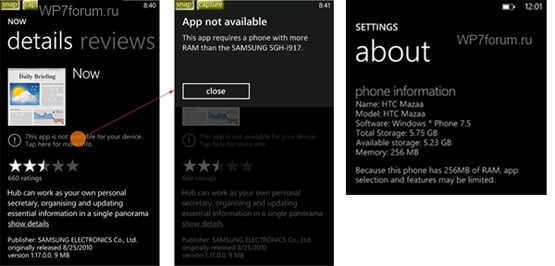 It's expected that Microsoft will unveil Windows Phone Tango at Mobile World Congress later this month in Barcelona. The announcement would also include the announcement of newly supported chipsets. Keep in mind that these images might not show everything new in Windows Phone Tango.
If you're in the market for a low-end or entry-level Windows Phone these changes won't impact your experience much, unless you want the full selection of apps. The smaller images shouldn't make a huge difference for the average user. The Windows Phone Marketplace doesn't have many apps as it is, and limited that number even further doesn't seem like the best idea, but it shouldn't be too bad if you don't need powerful apps on your smartphone.
Via: The Verge

As an Amazon Associate I earn from qualifying purchases.