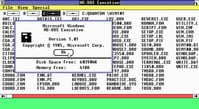 With Vista sort of rolling out to MSDN folk and getting ready for the business release in a short time, it is time to take not that Microsoft Windows turns 21 today. Some interesting facts from the Connected Internet to celebrate the age of maturity.
Windows 1.0 was released on 20th Nov 1985 and the hardware requirements were 256KB of RAM, DOS 2.0 and two floppy drives, two years late.

The retail price was $100, which is worth about $177 in today's money – the same as Windows XP Home.

Microsoft sent out a press kit featuring a squeegee and a washcloth to announce the launch of Windows 1.0, a full two years before the product was launched.

If Bill Gates had got his way, he would have called it "Interface Manager". 21 years later, I don't think Interface Manager Vista, or Vista Interface Manager would have had the same ring to it….

Windows 1.0 was only out for two weeks before it had to be patched to fix bugs (sound familiar?).

Support for Windows 1.0 was weak, and even Microsoft's own apps didn't support it. In fact, Excel and Word didn't work with Windows until 1987 and 1989.
So who's thinking of that old saw, "the more things change…."?

As an Amazon Associate I earn from qualifying purchases.