Windows Vista now available for pre-order on Amazon
For those of you who like to be first in line with things, here is you chance to do so with Windows Vista!
Amazon has Vista Ultimate SKU listed for $399 available on January 30th, 2007: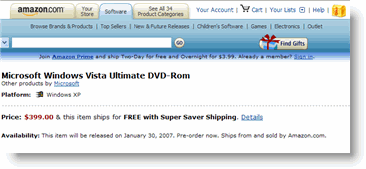 This is obviously an attempt to get people in quickly, the details on the page are a little strange:
I think I'll wait to place an order.. :-)
via Engadget

This article may contain affiliate links. Click here for more details.