WindowsVista.com relaunches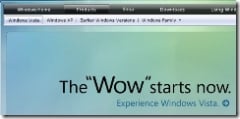 Microsoft is gearing up for its official Vista launch on January 30th by putting a new face lift on WindowsVista.com . Fresh look and very Vista like – including the start up sound.
Anybody planning on hitting up Best Buy, CompUSA, Circuit City, etc on Jan 30th to get your new copy of Vista or Office 2007? What version are you buying? I'll be at a Best Buy in Colorado Springs doing some demos of Vista on Tuesday. If you are in the Springs area, come by the Best Buy on Powers and say hi. I'll be there from 10:00 – 3:00.

As an Amazon Associate I earn from qualifying purchases.