WIPTE Conference PDFs available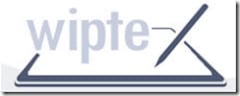 There is a secret in the Tablet PC community and it is called The Workshop on the Impact of Pen-based Technology on Education. The conference brings together educators from various backgrounds to present and discuss how pen-based technology is being implemented in the education sector. Not only is this a great conference for educators to attend, but the information that comes out of it can be gleaned and applied to the enterprise as well.
I've been working with the Board of the WIPTE conference, and they have made available the following PDF's of this past year's conference. In addition, they have produced a book of all the the papers presented, and it is available for sale at Amazon for $22.95. I understand that they are also working on an e-book version of the book as well.
I'm planning on attending next year's conference which is scheduled for June 11-12 at the University of Purdue. Any GBM readers planning on attending or presenting?
If you have not frequented the Students / Educators Interest Group on our forums, check it out. It should prove to be a great place for educators to gather together and talk
Here are a collection of PDFs from this past year's conference that should give anyone considering implementing Tablet PCs in the enterprise or the education sector some great ideas.

As an Amazon Associate I earn from qualifying purchases.