Wireless Ground USB Leather Hand Strap
Like Judie at Gear Diary, I'm not a hand or wrist strap kind of person when it comes to toting my mobile devices. But if you do like to strap your device around your wrist and need to sync up to your Tablet PC, this might be a solution. The USB Leather Hand Strap iis a sync cable with USB and miniUSB connectors masquerading as a hand strap, that lets you hook up and sync away.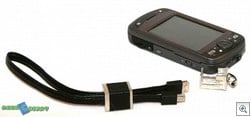 This article may contain affiliate links. Click here for more details.