With Multitasking Enabled in Mango, Microsoft Focuses on Battery Life on Windows Phone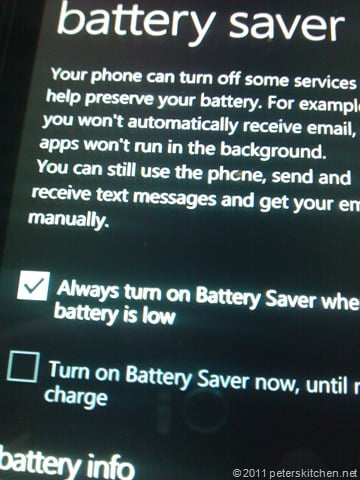 As Microsoft has begun to enable multitasking support in the latest version of Windows Phone, code-named Mango, that will begin to roll out to users this Fall as a software update, the company is taking a closer look at maximizing and optimizing the mobile OS for better battery life. Developers who have gotten a hold of the Mango preview are saying that Microsoft is now adding a battery saving  option in the settings.
The Battery Saver setting will turn off email and background apps to conserve battery life when the battery is low, but will allow Windows Phone 7 devices to continue to make and receive calls and texts. The settings can be turned on automatically or activated manually.
According to HTC Source, this could potentially increase battery life up to 30 percent, even with heavy use of the phone.

This article may contain affiliate links. Click here for more details.