With New AT&T Drive Studio Labs, Your Car May Become a Smartphone on Wheels
At the Consumer Electronics Show and at its own Developer Summit, wireless carrier AT&T is renewing its commitment to expanding wireless connectivity into the car. The Rethink Possible carrier had announced that it is opening a lab for connected car called AT&T Drive Studio in Atlanta, Georgia as a hub for bringing a better driving experience to customers.
The 5,000-square foot plus facility features garage bays, a working showroom, and lab spaces to grow innovation where developers and partners can tap into existing AT&T Labs technology, like the AT&T Speech Lab that will allow innovations to bring better voice control into the vehicle through common speech APIs to make the in-car experience safer.
The carrier says that it hopes to transform the car into an experience that's akin to a smartphone on wheels. The carrier is quick to note that while the headquarters may be in Atlanta, AT&T Drive is positioned as a global solution for automakers to reach key markets.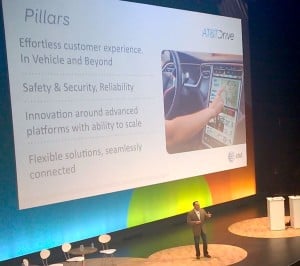 "AT&T Drive Studio showcases end-to-end solutions that AT&T and its contributors can provide automotive manufacturers around the world," the company said in a press release. "Significant ecosystem players are committed to the Drive Studio and will work alongside AT&T, including Accenture, Amdocs, Clear Channel's iHeart Radio, Ericsson, Jasper Wireless, Synchronoss and VoiceBox."
AT&T already has a research lab that enables innovation through the AT&T Foundry, and the carrier says that the AT&T Drive Studio is like a foundry for connected cars, a first of its kind for a carrier.
"We're going to work here with automakers to build innovative new solutions to make the in-car experience better for the driver and passengers, all doing so safely, with a focus on minimizing driver distraction," says an AT&T executive at the launch event. "We're also going to use this facility to extend our relationship with the developer community and drive new applications and services focused specifically on the car and their end users."