Wordle Answers: Visualize Them All With Simple Tool
If you're looking for a new way to grab Wordle hints, you may just fall in love with the PerThirtySix Wordle visualization tool.  The interactive Wordle tool can be used to not only help solve today's Wordle, but explore all 2,309 possible answers.
There's no shortage of sites that will give you Wordle answers, hints, and definitions, but this one is particularly interesting for Wordle fans.
The Wordle interactive tool starts out with a grid of all 26 letters arranged in six columns. The greener the letter, the more common it is to show up in a word in the corresponding position.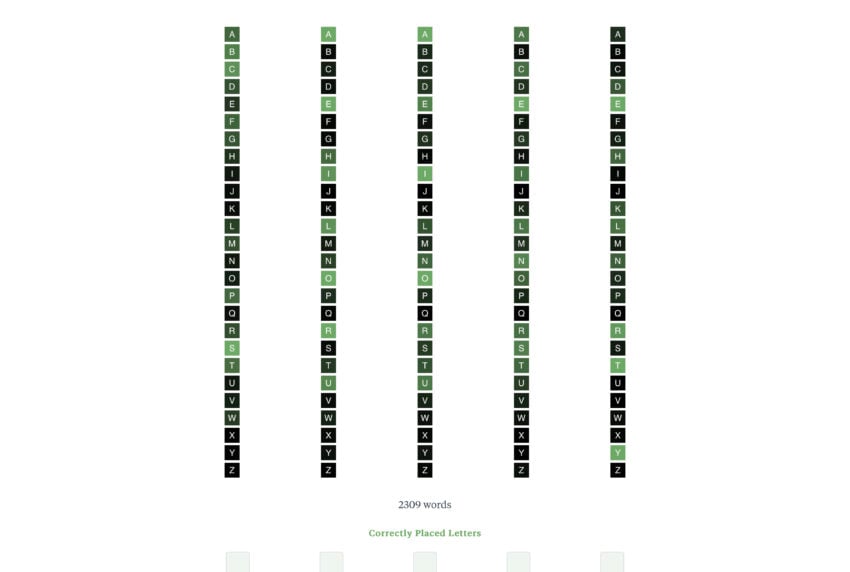 Tapping any letter will draw lines that branch out to form every possible correct Wordle answer with that letter locked in that position. You can add or delete more letters as you wish.
The tool really does help you understand just how valuable it is if you are able to tell that a single letter is in a particular place. For example, there are only six possible Wordle solutions with the letter "Y" as the first letter. It's important to note that this tool provides acceptable Wordle solutions, not every five-letter word in the dictionary.
It's pretty easy to see how you can use the Wordle visualization tool to solve the daily Wordle easily and quickly, but that's not the author's intent.
Shri Kalpada of PerThirtySix and author of the Wordle visualization tool wrote: "As I've been playing over the last year, my curiosity has had me wondering things like "how many possible words are there?", "how many words start and end with the same letter?", and "how many words use Y as the only vowel?"
You can try the Wordle visualization tool yourself at PerThirtySix.com.