Words With Friends Loses Support for Android Honeycomb
While the details surrounding this remain murky, we can confirm that the popular Scrabble-like game,  Words With Friends, is no longer available on the Android Market for Android Honeycomb devices. And the interesting part is, Zynga's support team apparently has no idea what's going on.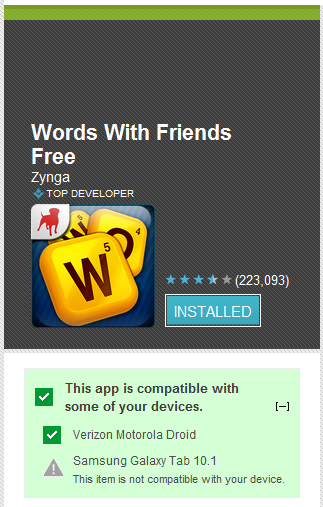 AndroidPolice first reported on the disappearance earlier today and one look at the Android Market on a Honeycomb tablet confirmed that game is no longer available. Worse off, Zynga support isn't being helpful whatsoever:
Thank you for contacting Zynga With Friends Customer Support!

Currently, Words With Friends and Chess With Friends are only supported on Apple iOS devices (iPhone, iPad, and iPod Touch) and Android devices. We are working to support other devices and hope to provide access to our players using these other devices in the near future.

You can follow us on Facebook at:
https://www.facebook.com/WordsWithFriends and
https://www.facebook.com/ChessWithFriends

Thank you for the inquiry!

Kind regards,
Gavin
Zynga With Friends Customer Support
Uh, OK. That doesn't really explain why the game worked two days ago with Honeycomb but  apparently now isn't compatible with it. So, like we do with all of these mysterious stories, we want to inquire.
Can anyone see Words With Friends on the Market with their Honeycomb tablet? Does the application even work anymore? Let us know in the comments and we'll see what we can dig up in the meantime.