World Series Live Stream: How to Watch Mets vs Royals
The 2015 World Series starts tonight and it'll be the best of seven games with the Mets vs Royals. Here's how to watch the World Series live stream.
It's hard to believe that the World Series is already here, but nonetheless, here we are. It's come down to two teams who both haven't won the World Series since the 1980s. The Royals haven't won since 1985 and the Mets haven't won since 1986, but both teams are looking to end their respective droughts.
The Mets haven't been to the World Series since 2000, so the current roster will be brand new to the scene, whereas the Royals were in the World Series just last year, so they'll have a bit more experience going into the seven-game set.
The Mets are led by Daniel Murphy, who has a league-leading seven home runs during the post season, as well as 11 RBIs to go with those home runs.
The Royals haven't quite hit as many home runs as the Mets, but Kansas City is a team with a high batting average, with Alcides Escobar, Alex Rios, and Ben Zobrist leading the team in batting average.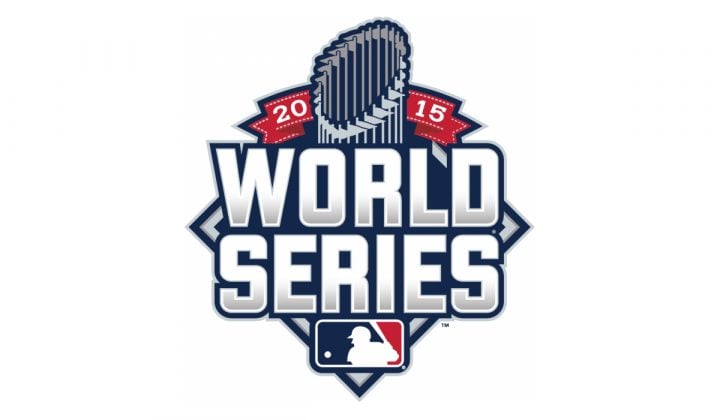 What both teams have in common, though, is the hunger for a World Series championship. If you're wanting to catch all of the action, here's how to watch the Mets vs Royals World Series live stream if you can't get near a television.
How to Watch the World Series Live Stream
If you'll be near a television for the World Series, then that's most of the battle, as all seven games will be aired on FOX, which means you won't need a cable subscription in order to catch all of the action.
However, it gets a bit tricky if you won't be able to watch the games on a TV, which means you'll have to resort to a live stream. Luckily, the MLB has you covered.
MLB.TV is the official live streaming service that allows you watch any and all games during the season without needing a cable subscription like many other live streaming apps require. The only restriction is that there are blackouts, which means if you live near the team that you're trying to watch, you'll be out of luck.
The service is only $9.99 to watch all World Series games, and that price also includes all Spring Training games next year.
However, the World Series live stream is a bit different, but in a bad way. There are still blackout restrictions for US and Canadian users (usually there aren't any blackouts for Canadian users), but now you'll need a cable subscription in order to watch the games. A number of popular cable companies are supported, though, including DIRECTV, Optimum, Time Warner Cable, Verizon FiOS, Bright House Networks, Buckeye, Arvig, COX, and DISH.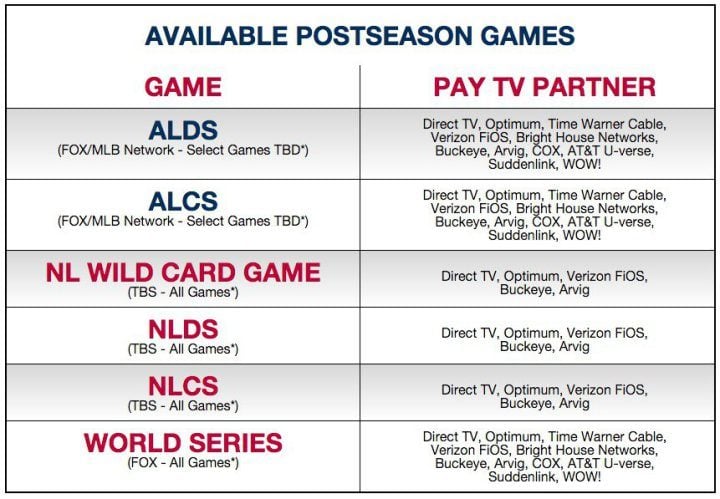 The good news is that you can get around those restrictions fairly easily by using a VPN (Virtual Private Network). This essentially tricks websites and other online services by telling them that you're in a location that you're not actually located in. This allows you to get around MLB.TV's restrictions.
One of my favorite VPN services is called Unblock-Us, and it's specifically geared for users who want to bypass streaming content restrictions. The only downside is that, unlike most VPN services, Unblock-Us doesn't have an easy-to-use app that sets everything up for you. However, the process to set up Unblock-Us is fairly straightforward and the service offers a ton of different how-to guides for specific devices.
The only downside is that it doesn't work with iOS devices, since the MLB At Bat app (which includes MLB.TV), has some pretty tight security that allows it to detect VPNs, making it nearly impossible to bypass restrictions on Apple's devices, but I've used Unblock-Us in the web browser and on the PS4 without any issues.

As an Amazon Associate I earn from qualifying purchases.