World's First Smart Toothbrush Gets New Games, Specialized Accessory
Kolibree, the makers of the world's first connected toothbrush, introduced new games, software, and accessories at CES 2016. The Kolibree toothbrush helps both kids and adults take better care of their teeth by turning brushing teeth into a game.
There's a lot more to proper preventative dental care than simply brushing twice per day. The Kiolibree toothbrush doubles as a game control with 3D motion sensors. The games guide users to brush every surface and to use the proper brushing angle. The company introduced four new games that run on both Android and iOS devices.
The company introduced four new games at CES 2016 that run on both Android and iOS devices. Rabbids Invasion is a game by Ubisoft designed for children aged 3 to 12 years old. La Fontaine's Fables is a game that reads short stories for as long as a child is brushing.  Rage Against the Zombies designed for middle-schoolers that works with Kolibree's new orthodontics brush head for people with braces.
Kolibree helps parents teach their kids how to brush properly and monitor the results without looking over their shoulders. Kids will have to bring an iPhone or Android phone into the bathroom every time they brush.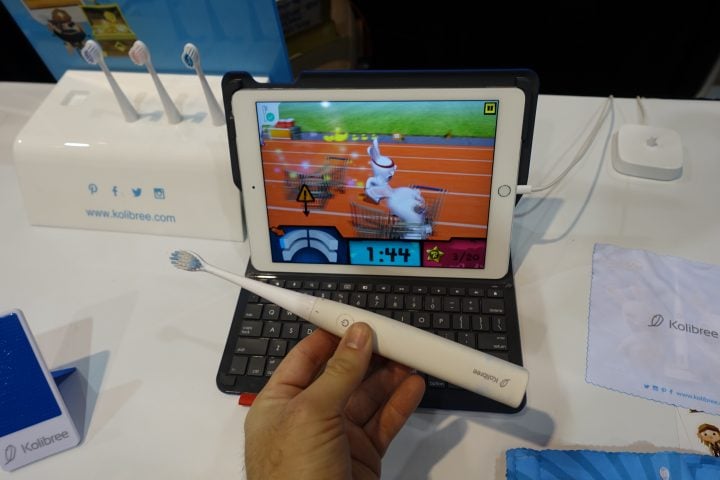 "The Kolibree platform strengthens the dentist-patient relationship by allowing parents to digitally share family brushing habits with their dentist as part of a personalized approach to preventive dental care," said Thomas Serval, Kolibree founder and CEO.
The Kolibree Smart Toothbrush costs $149 from Kolibree.com. The new games and orthodontics brush head will be available this spring.