Would Your Lost Gadgets Find You?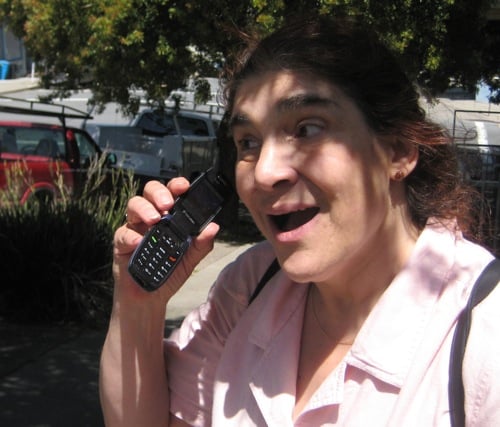 I was tasked with walking to the bakery and picking up a cake and bread for Mother's Day brunch. On the way back I found a small mobile phone in the street and set out to find its owner. I navigated to the phone's contact list, selected "Home" and hit dial.   The guy who answered was a little surprised to hear my voice since his wife's number showed up on his end. He explained that his wife was visiting their daughter for Mother's Day and he was at home in New Hampshire.
The mother and daughter came to pick up the lost phone about half an hour later. They were extremely grateful and even offered me a cash reward, but I declined and told them that I just wish every list gadget could find its owner somehow. The happy mobile phone owner is pictured in this post. There will always be a segment of the population who would rather keep a found gadget than return it to its rightful owner, but how would someone with good intentions reunite me with my gadgets if I were to lose them? I keep business cards inside of my carrying cases, but my computers and cameras are unmarked. My iPhone is password protected, which means it would be impossible to dial my home phone number or one of my contacts to track me down.
While all of my computers are insured and backed up, I'd much rather get my stuff back than an insurance check. The easiest thing to do would be to tape business cards to the bottom of my gear, but that's not a very durable solution. I've thought about using a Dremel to engrave my name and contact info on my gear, but not an option if I want to sell my stuff on eBay.   I looked into buying asset tags, but I'd have to order a large quantity.
What are your suggestions?   Would your lost gadgets find their way home?

This article may contain affiliate links. Click here for more details.