WowWee Chip Robotic Dog Takes on Zoomer Kitty
One of the hottest selling gifts this holiday season for kids was the Zoomer Kitty, a robotic pet that flew off of shelves and was constantly sold out. Electronic pets are getting increasingly more popular, and at CES 2016 the company WowWee has a brand new dog that looks to take on the Zoomer Kitty and more by having a real personality.
When it comes to cheap consumer robots, or toys, the options are still somewhat limited. The Zoomer Kitty for example, has a few predefined commands and movements, and that's it. An expensive robotic cat that doesn't do much once you take it out of the box.
WowWee wants to change that with its new robotic pet dog called CHiP. The name stands for 'Canine Home Intelligent Pet' and is essentially a pet dog that's fun and interactive without the real trouble of having a live animal. Read on for more details.
CHiP is more than just a robotic dog, as the company claims it has a built-in artificial intelligence "personality" that can learn as it goes. In fact, CHiP will learn who his/her master is and can easily follow commands from the user wearing the included SmartBand, a wearable controller. CHiP will follow its master around the house, down the hall, or do tricks on the floor. This little pet can also be controlled via a smartphone or tablet.
CHiP will walk around the living room, make playful motions, sit, lay down, and act like a real canine, not to mention fetch. Who doesn't like a little game a fetch? WowWee also includes what they're calling a "SmartBall" which has sensors to sync up with CHiP which enables fun and realistic games like fetch or soccer.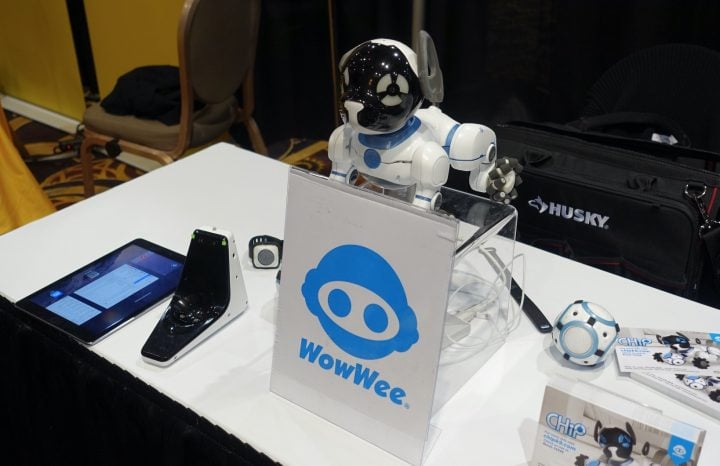 So while the actual options in terms of a robotic pet dog are still somewhat limited, the "real AI personality" is what makes WowWee's robot stand out. It learns who its master is, has a fun playful personality, and will play games with your kids. The Zoomer Kitty has a similar ball, but didn't seem too intelligent. WowWee wants to change that with Chip.
Our few minutes seeing it on the CES showroom floor certainly proved this was more than just a generic robotic pet. CHiP has more personality than most, multiple commands that are easy to do and more. Most of all, it looks simple and fun.
WowWee plans to launch CHiP in the third quarter of this year, ahead of the holiday season for $199.99 USD.