Woz Gets In Line for an iPhone 4S
One of my favorite geeks, Steve Wozniak, got in line with the rest of the Apple loving fans in order to pick up an iPhone 4S.
While I'm sure he could just call up someone at Apple and have it hand delivered to his home, but instead he likes to get in line and enjoy the fun and fellowship of his fellow fanboys.
He could be seen camping out at a Los Gatos, California Apple Store playing with his iPad 2, which he also got in line to buy earlier this year. He tweeted about it and checked in on Foursquare.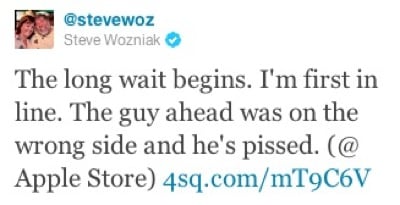 Why he doesn't use his celebrity status to get one? "I want to get mine along with the millions of other fans," he said in a CNN interview according to Mashable.
TechCrunch caught up with him last night for an interview, embedded below.
He told TechCrunch that he loves to wait in line, gushing about how great the product was. He knows his early code has nothing to do with this modern product but said, "I'm just so glad it's as good a product as I made back in the day."
His vision of the future as a young engineer and entrepreneur only vaguely looked like what we have today. He believed we'd all be using computers, but that everyone would have to learn how to program them sitting at their desktops writing code.
He looks forward to using the two best new features that many of us would name – Siri and the "best cameras in phones" today. When asked more about Siri he indicated that he tried to get people excited about the technology when it was just an app. He loved how it would list for him the five largest lakes in the world, but bemoaned the fact that such features were removed in recent iterations before it became integrated into the iPhone 4S. He wants to see if those kinds of things will return.
Woz will have two of the iPhone 4S waiting for him when he arrives back home, since he ordered them for AT&T. He plans to buy the white Verizon iPhone 4S for his wife at the Los Gatos Apple Store because Verizon is "more reliable."