Wren V5AP AirPlay Speaker: Great Sound but Needs Update
The Wren V5AP AirPlay Speaker looks attractive and pushes great sound, but the company made the unfortunate choice of shipping it with the old 30-pin Apple dock connector. When someone pays $400 for a speaker alone, they shouldn't need a $20 adapter to set it up. Despite that we really liked the speaker.
Here's what works. From the moment we tapped play on an iPad mini, the Wren V5AP AirPlay Speaker filled the room with rich sound and plenty of volume, enough for a large meeting room. The speaker blasts through the walls of a small dorm or bedroom. We don't just get volume. The rich bass complements nice high and midrange sound. Audiophiles might disagree, but the Wren V5AP AirPlay Speaker sounds better than most speakers playing compressed music on an iOS device by the average music fan.
Attractive Unique Design
The unusual shape of the Wren speaker surprised us. We're glad they didn't use a boring black box, going for vintage look with some modern details to fit with any environment.
Wren sells the speaker for $399 with two cabinet finishes, Bamboo and Rosewood. The company loaned us the Bamboo version, but pictures of the Rosewood look nice. Both versions come with an aluminum colored accents around the speaker and buttons that looks nice from across the room or close up.
Simple Setup of the Wren V5AP AirPlay Speaker
Connecting the Wren V5AP AirPlay Speaker to Wi-Fi is as simple as this:
Plug in the speaker
Plug an iOS device into the USB port on back
Press the setup button
Wait for the message on the iOS device asking permission to send Wi-Fi login settings to the speaker
Listen to music
It's that simple, and happened so fast we weren't sure it worked the first time. Wren setup was so much easier than other AirPlay speakers.
Room for Improvement
Here's what we'd like to see improve. Get rid of the big brick power supply. Other speakers don't need it, so we think Wren could change the design to remove it.
We know most people use Apple products with the older 30-pin connector, but Lightning is the future with iPhone 5s and iPhone 5c plus the latest generation of iOS devices all conneting with LIghtning. Wren should put both cables, or at least an adapter, in the box so buyers don't have to get one to set up their $400 speaker.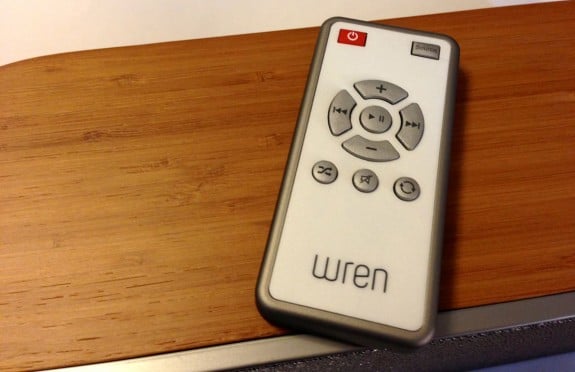 Finally, the remote feels cheap for speakers of this caliber.
A Definite Buy for AirPlay Lovers
Despite these flaws and the high price, we really like the Wren V5AP AirPlay Speaker. We've not listened to a better set of AirPlay speakers and recommend it to people willing to pay extra for AirPlay and who like great sound in an attractive package.

As an Amazon Associate I earn from qualifying purchases.