WritePad for iPad Update Now Uses Dropbox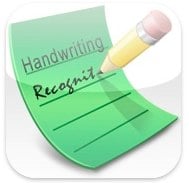 Phatware's WritePad for the iPad is one of the better Digital Ink note taking apps out there depending on your note taking needs. If you need handwriting recognition it is the best I've used.  For many early Tablet PC users its UI will feel very familiar as it offers both a TIP like writing window or the option to Write Anywhere on the screen and have that recognized as well. WritePad for the iPad offers a number of other features as well, but the new update to version 4.2 now allows you to use the Dropbox API to sync up your documents with other devices. Makes me wonder if Apple is going to remain content to let Dropbox become the de facto file system for the iPad, it works so well. The new version also has a Twitter Client that allows you to scribble out your tweets also.
There is an iPhone version of WritePad and there are iPad versions in German, Spanish, and French as well.
We recently had a contest for a code to win a free version of WritePad for the iPad and the winner was GBM reader TabletTeacher. Here's hoping he'll enjoy it. Thanks to Phatware for giving us the code to give away. WritePad for the iPad costs $9.99.
P.S. I also hear there are some other cool things coming in the next version.