WSJ: On switching from BlackBerry to iPhone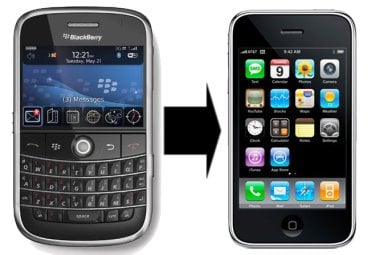 In their Mossberg Solution section, The Wall Street Journal has a brief article on things to know if you're thinking about switching from BlackBerry to iPhone. Most of the observations are drawn from a group of users who are making the switch. Most of it is pretty obvious stuff, like the decrease in battery life (which one user notes is due in part to increased usage) and the adjustment from a hard keyboard to the on-screen keyboard. The overall opinion was quite positive, but it's not all puppy dogs and rainbows.
"Some switchers said they wished the iPhone had something like BlackBerry Messenger, the always-on messaging system that works to allow communication between all BlackBerrys."

"One switcher, for example, was frustrated that Pandora, a radio-like app that plays music according to user likes and dislikes, turned off when he opened Mail to read emails while listening to songs."
These stem from the iPhone's inability to run third-party apps in the background. While I understand the reason for that limitation, now that the app development program is maturing and there's a significant speed bump in the 3GS (and presumably the next iPod touch), I think the iPhone has reached the point when Apple needs to open that up and implement standards for running third-party apps in the background.