WWDC 2013: What to Expect and Not to Expect
On Monday Apple will show off iOS 7, a new version of OS X and we could see new Macs, the rumored iRadio service and more, but we don't expect to see the iPhone 5S or iPad 5.
Apple is already preparing Moscone center for the WWDC event which kicks off on Monday with a collection of banners that show a 7, stylized app-like icons and an OS X banner with a wave on it.
Gotta Be Mobile is tracking the latest developments as Apple prepares for WWDC and is ready to offer our WWDC 2013 expectations. Below is what we think Apple will announce next week and when you might be able to get iOS 7, OS X 10.9 and any new hardware Apple announces.
Apple will take the stage at 10 AM Pacific / 1 PM Eastern on Monday where we expect to see Tim Cook, Jony Ive and other Apple execs talk to iOS and OS X developers about the latest features for the iPhone, iPad and Apple computers.
What to Expect at WWDC 2013
iOS 7
Given the major focus on mobile, look for a big part of the presentation to focus on iOS 7. iOS is the software that runs the iPhone, iPad and iPod touch, and we expect a big redesign of the software now that it is under the direction of Jony Ive. Ive responsible for the overall design of Apple products, and rumors point to Ive making changes to the look and feel of iOS 7 to bring it in line with what he thinks a mobile operating system should look like.
iOS 7 will be flat according to leaks and rumors. A flat operating system means that we could see a redesign of system elements and the stock iOS apps with iOS 7 to remove un-needed textures, gloss and design elements. While there are no current iOS 7 leaks, reports from 9to5Mac claim iOS 7 will kick the real-world looks of apps like notepad, calendar and contacts to the curb in favor of white, silver and black textures.
Read: iPhone 5S & iOS 7: Play With a New iOS Concept
the list of rumored iOS 7 features is growing, but keep in mind Apple may not announce every feature tomorrow. On iPhone "S" upgrade years the company has kept one feature back to reveal as an exclusive feature for the new iPhone.
Widgets and Toggles
iOS 7 could finally deliver small widgets and power toggles for the iPhone and iPad. It's not clear what all this would include, but there is hope that users could quickly toggle Bluetooth, WiFi, Airplane mode and GPS. While not discussed, it would be great to see a way of changing screen brightness on the iPhone without diving into settings.
Better In Car Experience
As in car connectivity ramps up, look for Apple to raise the bar with better integration to the in-car infotainment systems. We could also see a big jump in Apple Maps capabilities. One rumor suggests that Apple will deliver more in the way of Siri Eyes Free, possibly mirroring Apple Maps on in dash screens. This would be a welcome addition for users who are frustrated with poor user interfaces on in dash systems and outdated maps in their cars.
Social and Sharing
Expect to see more built-in services in iOS 7, along the lines of Facebook and Twitter. This may include LinkedIn, Vimeo and Flickr. Users could likely link up their social accounts and then see sharing options for the services in the share dialogue. It would be nice to see Apple open up the sharing options to third-party apps that aren't integrated to iOS, like Android does, but this isn't something we expect just yet.
AirDrop debuted on OS X last year, making it easy to transfer files wirelessly between two Macs, and the latest rumors suggest it could come as an iOS 7 feature. This would make sharing between iPhones and iPads possible without NFC. AirDrop works directly between devices without the need for a WiFi network which would make it easier to share a video with a group of friends without uploading to YouTube or Dropbox first.
Siri Access for Apps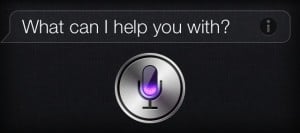 Tim Cook shared that Apple will open up some Apple services in a recent interview. If Apple opens up the API to Siri, developers could build in support for Siri control.
Spotify teased Siri control all the way back in January 2012 when we were talking about iOS 5.1
This type of access would deliver better in-car control of apps and offer something Google Now, Android's version, cannot currently deliver.
iOS 7 Release
Look for Apple to announce an iOS 7 beta release for later Monday, but don't expect access for everyone. This is intended for developers that pay $99 to join the iOS developer program. There will be ways for users to install it without joining, but the full release won't likely come until September or October.
OS X 10.9
Look for a new version of OS X 10.9 to arrive on Monday. We've already spotted banners about OS X with a wave on it at the Moscone center. Apple reportedly pulled engineers from OS X 10.9 to get iOS 7 ready on time, so we may see some lag in a release of the latest version of OS X.
Possible OS X 10.9 features include Siri for Mac. Last year Apple added dictation to the Mac, so Siri could be the next jump for voice on the Mac, and it could perform better on newer Macs with dual-microphones.
There are also rumors that OS X 10.9 could include Maps integration and system improvements for Finder, a new Multitasking setup and better multi-monitor support according to 9to5Mac.
We could see an OS X 10.9 release as soon as July if the push for iOS didn't slow the development.
New MacBooks And a Mac Pro
A flurry of leaks point to new Macs coming at WWDC 2013. Apple used WWDC 2012 to push out new MacBook Pro and MacBook Air notebooks, and we could see a repeat this year with new Intel processors that offer up to 30% better battery life than previous processors.
The MacBook Air could arrive with faster WiFi and a new Intel 4th generation chip next week, with upgrades to the 13-inch and 11-inch models.
We could also see a new 13-inch MacBook Pro with Retina Display that is slightly thinner. Both the 13-inch and 15-inch MacBook Pro with Retina could see a new Intel 4th gen processor upgrade.
Apple may also deliver a new Mac Pro, the professional desktop system that Apple has not updated in nearly a year, and even that update was only to add a new processor. Apple is planning a new Mac Pro for 2013, and we are hearing teasers of "something really different", but it's not clear if Apple will show it off at WWDC.
iRadio
Apple inked a deal with Sony, securing three of the major music labels for a new service that many are calling iRadio. This service would reportedly compete with Spotify radio and Pandora Radio to offer personalized radio stations for users.
Read: Radio & iOS 7: Siri Could Be Apple's Secret Weapon
This service could launch immediately, or could be baked into iOS 7 with support for Siri to control music and stations without touching the screen.
What Not to Expect at WWDC 2013
For all the things we expect Apple to announce, including new hardware, we don't expect to see any new iPhone or iPad devices on stage at WWDC 2013. Apple used WWDC to launch the iPhone in previous years, but all signs point to fall, after an iOS 7 release to the public.
It would make very little sense for Apple to show off catchy new iOS 7 features and then announce a new iPhone and a new iPad that wouldn't be able to run the software for months. Unlike most Android manufactures, when Apple announces a product we get a price and a release date. And the date is normally within a few weeks, not a few months.
iPhone 5S or iPhone 6
Early chatter of a new iPhone for 2013 pointed to a summer release, but as spring passes Summer is all but forgotten as an iPhone 5S or iPhone 6 release.
We explain in detail why the iPhone 5S and iPhone 6 won't show up at WWDC on Monday, but the short version is, Apple needs more time to finish the rumored iPhone 5S and will likely ship it alongside the official iOS 7 release in the fall.
iPad 5 and iPad mini 2
One case maker is betting on an iPad 5 release soon after WWDC 2013, going so far as to start making cases based on a leaked design that looks a lot like the iPad mini. Even with this ramp up and the case maker's inside sources, we don't expect to see the iPad 5 on stage at WWDC, instead it could come later this year in October.
The iPad mini 2 is rumored for Apple's roadmap, and if it gets the rumored Retina Display, we don't expect to see it until later this fall as well. The latest talk puts the iPad mini 2 arriving after the new full size iPad 4.
Tune in Monday to see what Apple announces and when you can expect to see iOS 7 and OS X 10.9 on your Apple gear.

As an Amazon Associate I earn from qualifying purchases.