WWDC: Mission Control and What Three Fingers Get You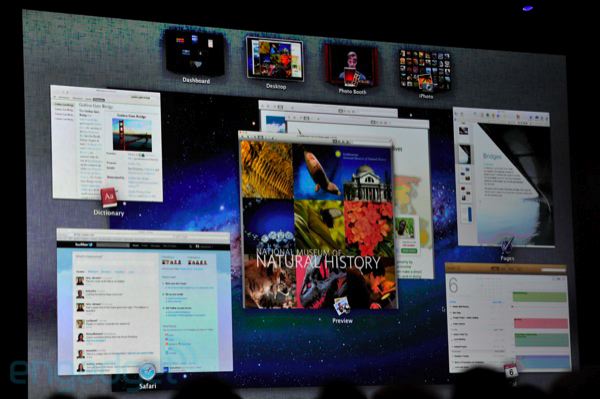 At Apple's WWDC Conference, Apple has shown off Mission control, which is accessible via a three-finger gesture by swiping upwards on the trackpad. Mission Control allows users to not only manage their multitasking, but also their workflow, combining two features of OS X into one–Spaces and Expose.
Once you're in Mission Control, it will show you all the Spaces you're in–which is essentially the desktops that you're currently managing as you're trying to divide and conquer with task-specific programs. For instance, you can create a desktop, or space, for the browser, and then you can have another space for Office documents, while yet another for a Keynote presentation that you're working on.
Managing these spaces is easy, and Expose shows all the windows you have opened so you get a quick preview of what you're doing.
Mission Control will integrate traditional Mac programs as well as the new OS X full screen apps together so you get to see everything you're doing. If you need to see a larger preview, hitting the spacebar key will allow you to see the small window in bigger details without having to switch directly to that window if that's not what you want.
Mission Control is a great tool for multitasking on the desktop, and all you need to do to access it is to swipe upwards with three fingers.
Picture source: Engadget

As an Amazon Associate I earn from qualifying purchases.