WWE 2K16 Release Date: 10 Things Buyers Need to Know
The WWE 2K16 release date is so close you can smell the sweat and practically feel the bodyslams coming. Here is what you can expect from the WWE 2K16 release date and what buyers need to know about this new wrestling game. We'll also let you know where to buy it at midnight and where you can find WWE 2K16 deals.
In a few days the WWE 2K16 release date arrives on PS4, Xbox One, Xbox 360, and PS3. There are a few places you can play WWE 2K16 early, but you need to be near a participating Walmart during a short period, so it's not an option for most players.
You don't need to pre-order WWE 2K16 to get a copy on the WWE 2K16 release date, but if you want any special editions or bonuses you may need to pre-order. Several of the WWE 2K16 deals end when the release date arrives, so keep that in mind.
This guide will walk you through everything you need to know about the WWE 2K16 release date.
WWE 2K16 Release Date
The WWE 2K16 release date is October 27th on disk and digital for the four biggest consoles. There is no PC or Wii U release for the game. If you buy WWE 2K16 for Xbox One or PS4, you can expect better graphics than on the older versions. We are not aware of specific differences in gameplay or features between the PS4 and Xbox One version and the PS3 and Xbox 360 version.
On October 27th you can walk into any store that sells video games and pick up a copy of the base game without a pre-order.
No WWE 2K16 Demo
If you want to play WWE 2K16 early you have to go to one of the Walmart events that is only available at specific locations for three or four hours.
There is no WWE 2K16 demo that you can download to play the game early or to see if you will like the game.
Early WWE 2K16 Reviews
We haven't found a full WWE 2K16 review yet, but you can get an idea of what to expect from some of the early reviews from the WWE 2K16 beta that select gamers had access to. YouTube channel DenkOps shares a very in-depth look at the game with the Austin 3:16 showcase above and many others.
WWE 2K16 Deals
If you pre-order WWE 2K16 you can save at Amazon or at Dell and there is a discount for Gamers Club Unlocked members at Best Buy.
Amazon delivers $7 off WWE 2K16 if you are an Amazon Prime Member. Dell offers a $15 eGift card towards a future purchase when you pre-order WWE 2K16.
If you are a Gamers Club Unlocked Member you can save 20% off the game at Best Buy. Gamers Club Unlocked is $30 for a two-year membership.
Midnight WWE 2K16 Release Date Events
Although there are few WWE 2K16 release date events at midnight, the game shares a release date with Halo 5.
Many Best Buy and GameStop locations are open for the Halo 5 release date at 12:01 AM Eastern or 9:01 PM Pacific.
If you want in on a WWE 2K16 midnight release date event, call your local store and ask if you can also get WWE 2K16 at this event.
WWE 2K16 Digital Download
If you want to buy WWE 2K16 digitally you can do so on Xbox One, PS4, Xbox 360 and PS3.
When you buy the game directly from Microsoft or Sony you an pre-load the game, which will download it to your console before the release date.
This allows you to play the game as soon as the release date arrives without installing or downloading anything at midnight.
WWE 2K16 Season Pass, Purchases
You can buy a WWE 2K16 season pass that includes an assortment of items for $24.99.
Accelerator (access to all unlockable content available in the game);
Legends Pack;
2015 Hall of Fame Showcase;
New Moves Pack;
Future Stars Pack.
One of these is the Accelerator, which unlocks everything in the game without requiring you to beat anything. That means you will immediately get the items shown below.
If you don't pay for the season pass you can use WWE 2K16 micro-transactions to;
Pay $1.99 to Unlock All Unlockables
Pay $9.99 to Max Stats on My Career Mode on PS4 or Xbox One
There are other options to buy moves, showcases and future stars.
WWE 2K16 Companion App
There is a WWE 2K16 companion app that will allow you to upload your face into the game. Use this free app to upload your face or a logo to WWE 2K16 so that you can put it on a Superstar.
The WWE 2K16 Creation Studio arrives for iPhone and Android shortly after the WWE 2K16 release date.
WWE 2K16 Roster
There are an incredible number of wrestlers on the WWE 2K16 roster. Check out the WWE 2K16 Divas entrances below. Not all Divas are in the game, but we may see the roster grow over time.
The WWE 2K16 roster includes current and former wrestlers and multiple options for many wrestlers who changed throughout their careers. Check it out on the WWE 2K16 home page.
WWE 2K16 New Modes & Features
There is a Universe mode in WWE 2K16 that the video above highlights, showing off the new features and a breakdown of the mode. Below you can see the WWE 2K16 My Career Mode.
Both of these videos offer a great look at some of the new WWE 2K16 features and options for gamers.
WWE 2K16 vs WWE 2K15: 11 Key Differences
WWE 2K16 My Career Mode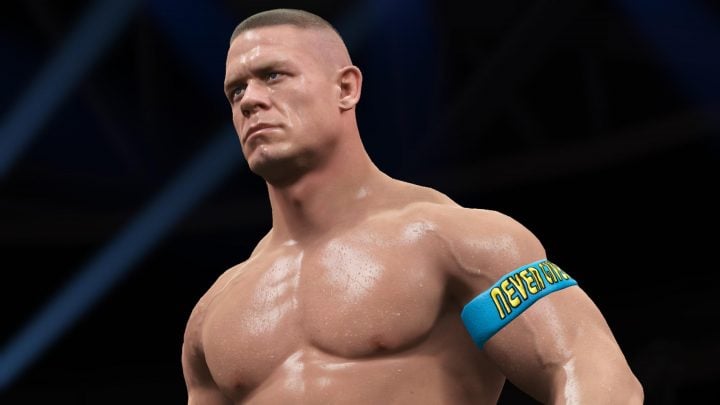 The WWE 2K16 release brings an upgraded MyCareer Mode to gamers who can now play in the NXT brand and become a more developed player before aiming for the WWE roster.
Part of the upgrades include the ability to choose how you want to enter the WWE arena. This adds more ability to customize your story line. You can choose the titles you want to go for, choose to use Tag Team titles and you can also choose how you handle interviews -- which will influence the actual play of the game.
This can create rivalries and alliances -- and how you choose to respond you can change how you play. There are now more options to control how you run in to the match. The overall goal is to make it into the Hall of Fame.

As an Amazon Associate I earn from qualifying purchases.