Xbox 360 Owners Get Battlefield: Bad Company 2 & More Free
Microsoft is giving members of its Xbox Live subscription service who've signed up for Gold status a few new high-profile games to go with their console for the month of October and the slate for Xbox 360 users includes Battlefield: Bad Company 2.
Microsoft announced the free Xbox One and Xbox 360 games in a post on its Xbox Wire news blog late yesterday, and understandably some users are impressed. Battlefield: Bad Company 2 will be handed out to Xbox Live members with an Xbox Live Gold subscription from October 1st through October 15th. Available to play only on the Xbox 360, Battlefield: Bad Company 2 was one of the first serious first-person shooter titles to give the Call of Duty franchise some legitimate competition in the multiplayer space.
Additionally, Xbox 360 users with an Xbox Live Gold subscription can expect Darksiders 2 to be available for free during the last half of October. From October 16 to October 31st, users will be able to download the open-world role-playing game at absolutely no charge. Normally, a digital copy of Darksiders 2 would cost Xbox 360 users $39.99. Battlefield: Bad Company 2 normally costs $19.99.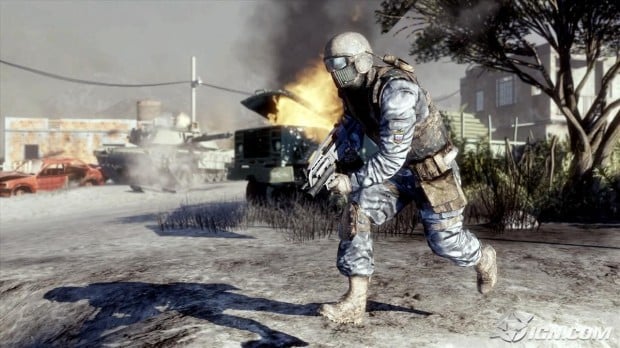 Xbox One users with an Xbox Live Gold subscription aren't necessarily getting anything as high-profile as these older Xbox 360 titles. Instead, Microsoft is adding a single game to the slate of titles it gives Xbox One owners with an Xbox Live Gold subscription for free. That game is Chariot and it's one of the many games to come out of the [email protected] program that Microsoft uses to attract independent developers.
Chariot is a platformer in the same sense as classic titles like Mario. Instead of controlling a plumber, players are riding on a king's coffin that's been outfitted with wheels. It's the player's job to navigate the coffin through a serious of underground environments. Today's post on Xbox Wire revealed that there are 25 different environments to navigate in Chariot.
Last summer Microsoft unveiled the Games With Gold promotion for Xbox Live users. Like other programs of their kind, Games With Gold is all about giving users more reasons to maintain an Xbox Live Gold subscription. For the Xbox 360, Microsoft gives away two free games each and every month of the year. These games aren't voted on, instead they're chosen by Xbox Live staff. Users with an Xbox Live Gold subscription get to download these games at absolutely no charge except for the $9.99 or $59.99 they pay for an Xbox Live Gold subscription already. Users can sign into Xbox.com and get the games while they're available, then download them to their console when they're ready to play them. With the Xbox 360, users get to keep the games they get as part of the Xbox Live Games With Gold program forever.
With the Xbox One, Xbox Live Games With Gold is a bit different. Xbox Live is still $9.99 a month or $59.99 a year. Users still get two free games as well. The difference comes down to whether the games are actually user's to keep. They aren't, users can play the games for as long as they want, anytime they want, but only if they have an active subscription to Xbox Live Gold. If they don't, the games will lock until they resume their subscription. When it announced Games with Gold for Xbox One many speculated that making this change would allow Microsoft to give users more current games.
Xbox One users have until October 1st to download this month's free title Super Time Force. It'll be gone in October. One of this month's titles Crimson Dragon will be sticking around in the Xbox Live Games With Gold program until November.

This article may contain affiliate links. Click here for more details.