Xbox Design Lab: How to Get a Custom Xbox One Controller
Truth is that the design of a video game console isn't nearly as important as the device you need in your hands to interact with it. The video game controller has gotten many iterations over the years; Microsoft's Xbox consoles have come with more than a handful on their own. At E3 2016, Microsoft unveiled Xbox Design Lab. This addition to the Microsoft Store takes first-party controllers to a place they haven't been before.
Xbox Design Lab lets Xbox One or PC gamers design their own Xbox Wireless Controller. Shoppers don't get to add their own texture to the controllers, but they do get to decide what color combinations work best for them or choose from a stable of pre-made designs. Following the launch of the Xbox Elite Wireless Controller last year, it was only a matter of time before Microsoft went experimenting with controllers again. The Xbox Elite Controller was expensive, but allowed hardcore Xbox gamers to add paddles, personalize their joystick surfaces and remap buttons. The Xbox Design Lab controllers bring that same experience to a less hardcore crowd.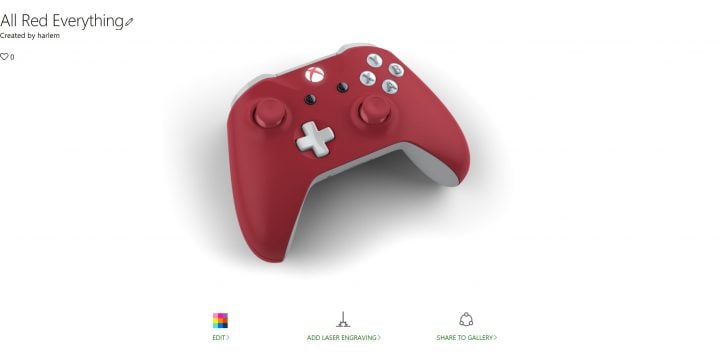 Read: Xbox Design Lab Brings Custom Controllers to All
Xbox Design Lab Details
The process of creating a custom Xbox One Controller starts with the Design Lab website. Available at Xbox.com, the site provides an editor for cycling through all the options that are available. Microsoft says there are 8 million color combinations in all.
Anyone can design a controller absolutely free, then save their design and share it with their friends on Facebook, Instagram and Twitter. Xbox Design Lab orders start at $79.99, $20 more than the regular $59.99 price of an Xbox One Controller, for that one the controller that they design. What's more, it takes time for Microsoft to have the controllers made. As such, Xbox Design Lab isn't a convenient place to turn to if you need an immediate replacement for the controller that came with your console. Adding a laser engraved message or gamertag to your controller costs $10 more.
Unless a controller is defective, shoppers can't return a controller they get from the website. Design Lab purchases come in a box meant for putting them on display.
Creating a Custom Controller in Xbox Design Lab
Xbox Design Lab doesn't let you choose every nook of the controller to customize. That'd be a logistical nightmare for the company and time-consuming for buyers. Instead, all the color choices are handled by regions.
The body, back and bumpers of the controller make up the important regions. In addition to those, you can decide on a directional-pad, thumbsticks and main controller buttons. The site offers different colors for different parts of the controller. Because of this, all colors aren't available on all parts of the controller.
It takes about seven different steps to create a controller in Xbox Design Lab. Plus a few more to pay for it. Payments are handled by the Microsoft Store. Microsoft warns that the final colors might look slightly different from what users see on the site because there's no way to account for the color temperature of their display.
https://youtu.be/yGxxXkDqRS8
Shipping from Xbox Design Lab varies, it seems. Right now, Microsoft says that anyone who orders from the online shop will get their controller sometime in September.
How Xbox Design Lab Xbox Controllers Are Different from What You Already Have
The controllers that users get from Xbox Design Lab aren't based on the original Xbox One Wireless Controller. Instead, they're based off the new Xbox One controller Microsoft is including with Xbox One S.
They've had their sharp lines and angles streamlined. Equally as important as the color upgrades are two big changes. These new controllers have textured grips that make them far easier for gamers to keep in their palms. Also, Microsoft is eager for PC users to not need the Xbox Wireless Adapter it just released last year. These controllers have Bluetooth 4.0 technology, which makes them great PC controllers in addition to console controllers. They still work with the Xbox One's own communication standard too though.
Microsoft boasted of longer battery life for this new Xbox One Controller design too, but no one outside the company has been able to put those claims to the test.
Buyers can only change the colors of their joysticks, but they aren't detachable like the Elite Controllers. There's no way to add paddles or a hardware switch for maintaining different profiles either.
Why You'd Want to Order a Controller from Xbox Design Lab
The hard truth is that, as with the Elite Xbox One Controller, no one actually needs to place an order from Xbox Design Lab. Microsoft has plans to sell the new Xbox One Controller on its own in white soon.
My Design Lab Controller design @shieldsjames @aarongreenberg

Blue is my favorite color, and Scorpio hyped! pic.twitter.com/iqCtfqBabE

— ✖️Ti♏️Dog ✖️ (@BeastFireTimdog) July 27, 2016
The reason users will and should turn to Xbox Design Lab is the easy, quick process that the site offers. Other companies allow you to wrap or customize your controller, but having Microsoft do it cuts down on shipping time, costs and keeps your warranty intact.
Xbox Design Lab is for die-hard Xbox One fans. They're going to love this.

As an Amazon Associate I earn from qualifying purchases.