Xbox Destiny Beta: What To Know & What to Expect
Last week, buyers of Sony's PS4 gaming console finally got the opportunity to try the Destiny Beta, a late test version of the final game that'll be arriving this coming September. There's been a lot of talk about the game since then. Unfortunately, owners of Microsoft's consoles have had to sit on the sidelines, wondering if the game is worth pre-ordering just to get into the beta and asking if Bungie studios really can pull off a hit game after Halo.
Luckily, the Xbox Destiny Beta launched a bit early. Here's what Xbox One and Xbox 360 owners who have pre-ordered the final version of Destiny can expect once the Destiny Beta begins.
Don't Expect the Xbox One Destiny Beta to Look as Good as the PS4 Version, Yet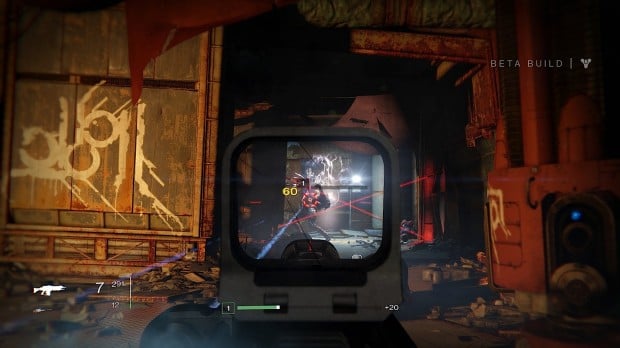 Early in its life cycle, Microsoft got itself into lots of trouble. Before ever launching the console, Microsoft decided to take a decent bit of the Xbox One's processing power and put it towards processing commands and gesture for the Kinect 2 sensor that every Xbox One included. The result was a user experience that allowed anyone to give the console hand or voice gestures at any time. Reportedly, it also kept some Xbox One games from being as good-looking as what's available on the PS4.
Recently, Microsoft made changes to the software in charge of managing resources on the Xbox One, and Destiny will be one of the first games to take advantage of those changes. Users will still be able to give their console voice commands, but developers will also be able to take some of the processing power that was reserved for gesture tracking and use it for their games.
The final version of Destiny will run at the same resolution as the PS4, according to Bungie. That being said, that's something the developer is hoping for by release date. The Destiny Beta will still run below what the PS4 version does. That's not a big deal considering Xbox One users will only be allowed to play against Xbox One users, ensuring there are no resolution advantages. Still, it's a bit of a letdown for users who were hoping to judge the final game's graphics best on this beta test alone.
Don't Expect Your Progress to Carry Over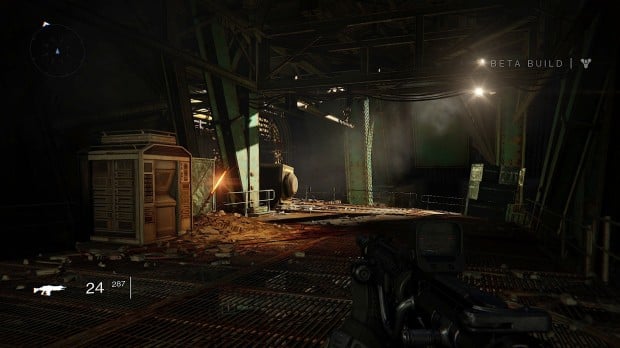 Not only will the graphics in the final version of the Destiny Beta be different for Xbox One users, their character might not be the same either.
What users are getting their hands on in the Destiny Beta are early versions of the play mechanics. As such, Bungie hasn't made it clear if it plans to let users keep their progress from the Destiny Beta. It's easy to understand why. If Bungie has to make some changes to a core game play element like aiming, it doesn't want to muddle player's statistics and rewards for the final game. Making a change and not resetting the player progression could leave a big caveat beside each achievement a user earns.
Maintaining a fair balance is important in console gaming, but it's especially important for Destiny. The game mixes different elements of first-person shooting and online RPGs. At the center of the RPG experience is earning special costume items. Users can't claim bragging rights for those items in the final version of Destiny if Bungie has made it easier or harder to obtain them.
Don't Forget To Download the Companion App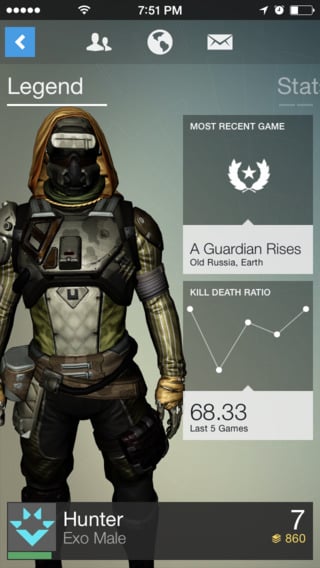 In the last couple of years, we've really seen video game developers struggle to add second-screen experiences to their games. Part of the reason everyone is trying to extend their console games to the smartphone is because, it's a golden opportunity. Many gamers have them nearby while playing, so to do people watching others play.
The Destiny Companion App focuses on making the game available to users where they are. With the app users can manage their character's inventory, organizing what they want to keep and ditch the items they no longer need. They can also track their Guardian's progress and look for friends and family who are also playing the Destiny Beta. There's even a Kill to Death meter for tracking how decent the last few games have been for you.
All of this is provided free to iPhone and Android users.
Read: 3 Destiny Videos That Prove You Should Pre-Order
The Destiny Beta promises to be the biggest event of the year for Xbox One and even Xbox 360 users. This is the studio who created Halo¸ after all. Destiny takes so much from PC online multiplayer and marries it with the action and accessibility that console players expect that it's hard not conclude that it's the most ambitious gaming coming this year.
The Destiny Beta will end on June 27th. Users can expect the final version of Destiny to launch on September 9th. When it does, it'll be available on the Xbox One, Xbox 360, PS4 and PS3. Destiny players on Sony's PlayStation consoles get first access to extra content in the game's two downloadable content packs.

As an Amazon Associate I earn from qualifying purchases.