Xbox on Windows 10 Gets Big Feature Upgrade for Streamers
Strictly speaking, Microsoft's Xbox app and Xbox Live services have only officially been available to users for just three weeks. Already, Microsoft is updating Xbox on Windows 10 and adding a highly coveted new feature to the mix: full high-definition streaming.
Microsoft's Larry Hyrb revealed the features in the August Update for Xbox on Windows 10 app late yesterday. In the free Windows 10 update, Xbox acts as the gateway for all things gaming. Users can download mobile games and earn achievements like they could in Windows 8.1, plus upload video game clips and pictures, start parties with Xbox One and other Windows 10 users. Microsoft is slowly building Xbox Live into Windows 10 so that developers have access to its multiplayer services and other systems. For example, Gigantic and Fable Legends will allow Windows 10 gamers to play along with their friends.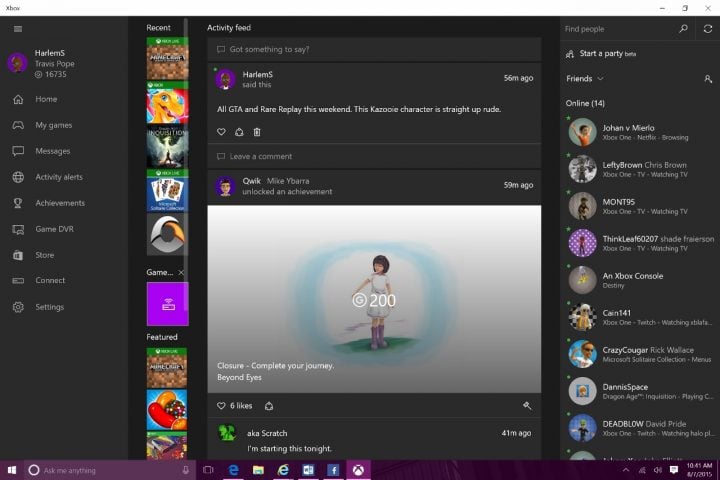 Read: How to Use Xbox in Windows 10
Easily, new streaming upgrades are the biggest reason to get excited about this update. Xbox on Windows 10 launched late last month with an option for users to stream their video games from their Xbox One to PCs on the same network. Xbox One to Windows 10 streaming worked already, but didn't look amazing. Microsoft says that users can now enable what it describes as Very High quality video streaming. With the setting on the company is promising users 1080p resolution streams that run 60 frames per second. That's a long way of saying streams will look the best they possibly could. Microsoft is warning users that taking advantage of the feature might require a better network than what they currently have.
Compared to the enhanced Xbox One to Windows 10 streaming, many of the other features included in the update are low-key.
Microsoft has added a right-click menu for users to send an invite or a message to a user through the Xbox on Windows 10 app. Before, users had to navigate through to a user's profile. Microsoft has upgraded the Recently Played list, opting to add more space for Gamescore, Achievements and direct links to Game Hubs.
The whole point of the Xbox on Windows 10 app is to put Xbox Live at the center of user's gaming experience on PC. Microsoft knows that it's behind in the PC gaming space. What ever it delivers needs to be compatible with the Steam, Gog and Origin games that users already have on their PC. Microsoft previously added a My Games area so that users could add the titles they already own to their Xbox experience as a shortcut. Microsoft is enhancing that screen with this update; a grid now lets users easily sort through their many games. There are transitions when moving through the app too. They weren't there before today's update.
Windows 10 automatically checks the Windows Store for updates. As such, users already running the operating system shouldn't need to jump through any major hoops to get this updated Xbox on Windows 10 experience. Users can force upgrades to happen through the Downloads area in the Windows Store. An Xbox One entertainment console is needed to stream games, but anything outside of that works perfectly well for every Windows user without a console.
Microsoft says it plans to keep updating the Xbox on Windows experience on a regular basis, adding new features and upgrades to improve on it. It'll need to make good on that promise if it hopes to extend Xbox Live in a meaningful outside of its console business. Microsoft has a long history of under delivering when it comes to PC gaming.
Perhaps not be accident, Microsoft began rolling out the August Xbox One Update for Xbox One users on Monday. It doesn't have any huge user-facing features beyond preparing for the Windows 10 upgrade coming to all users this November.

This article may contain affiliate links. Click here for more details.