Xbox One Backwards Compatibility Games Revealed
After months of teasing, Microsoft, makers of the Xbox One entertainment console, is finally ready to reveal the full list of Xbox 360 titles that users will be able to play when Xbox One Backwards Compatibility launches later this week.
Microsoft finally revealed the full list of games coming with Xbox One Backwards Compatibility this morning in a post on its Xbox Wire news blog. Announced this past June at the Electronic Entertainment Expo trade show. Xbox One Backwards Compatibility is a feature of the new Xbox One Experience that lets users place an Xbox 360 disc in their console and unlock a digital version for play on the Xbox One. Users still need to insert their disc for the game to work, but the feature is perfect for gamers that are thinking about purchasing an Xbox One this holiday season and trading in their Xbox 360.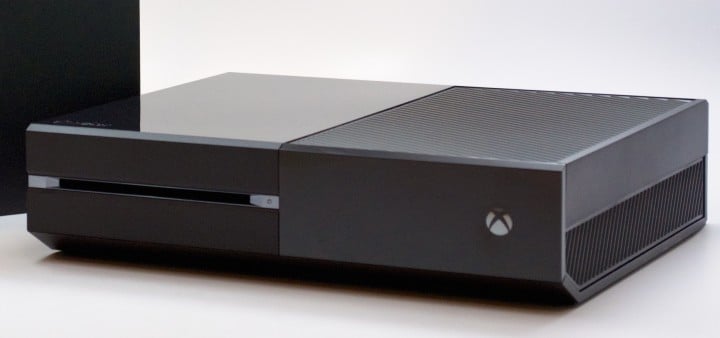 Microsoft promised more than 100 different titles in-time for the feature's launch. The company is delivering on that promise. There are 104 Xbox 360 games that'll be available on the Xbox One beginning November 12th. The majority of them weren't completely unexpected. For example, we already knew that the entire Gears of War series was included since Microsoft revealed it'd give those digital downloads away for free with Gears of War Ultimate Edition. We already knew that classic games from gaming studio Rare were coming too, like Banjo Kazooie and Perfect Dark.
Unfortunately, there aren't a lot of surprises in this list. Microsoft confirmed Borderlands and Fallout 3 previously. Crazy Taxi, though certainly a fun game, it isn't necessarily a big game that users still have in their collection and are dying to play. Lego Star Wars: The Complete Saga is a big win for Microsoft, but wasn't necessarily a console seller anyway.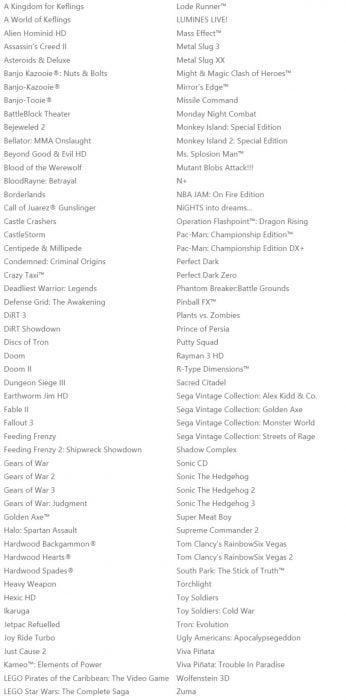 Even some of Microsoft's own exclusive titles are missing from the list. Having already released Halo: The Master Chief Collection, a massive collection of Halo games to feature Master Chief John 117, Microsoft seems to settled on giving users access to the Halo games they haven't already remastered. Halo: Spartan Assault, the top-down shooter and mobile game spin-off, is available through Xbox One Backwards Compatibility this week. Missing are Halo Reach and Halo Wars, two games that haven't been remastered for Xbox yet. Microsoft is promising both titles along with Bioshock, Call of Duty: Black Ops 3, Bioshock, Bioshock 2, Bioshock Infinite and Skate 3 for December. Microsoft doesn't say when December's addition to the Xbox One Backward Compatibility program will arrive. It does note that there are more planned for December than just the titles it shared today.
Xbox One Backwards Compatibility has a lot of moving parts. Essentially, Microsoft is allowing users to play their games on a new system without charging them any extra. To pull the feature off, the company has to work with individual publishers to get their titles in the program. An emulator on the console allows the game to think it's running on an Xbox 360, complete with multiplayer and the Xbox 360 Guide. What's more, users get the benefits of playing an Xbox One game too, like game streaming to a Windows PC, screenshots and video recording. Already we can see that some publishers are more open to this idea than others. Activision has considerably less titles than Ubisoft, which publishes Assassin's Creed, South Park: Stick of Truth and Toy Soldiers.
Read: Xbox One Backwards Compatibility: What You Need to Know
Certainly, letting users take the games they paid for with them is a very good move on Microsoft's part. PS4 users either need to subscribe to the PlayStation Now subscription service or keep their PS3 around if they want to play old games.
The real problem here is that Microsoft is hoping Xbox One Backwards Compatibility will inspire users to give up their Xbox 360 and upgrade to the Xbox One this holiday season. There seems relatively little here that'll have users finally ready to make the switch and trade-in their console because it's available on Xbox One.

This article may contain affiliate links. Click here for more details.