Xbox One Bundle in Stock at Microsoft as Xbox One Era Begins
Potential Xbox One buyers can pick up the console itself, a twelve month subscription to Xbox Live Gold, two games  and more for just $699.
What Microsoft is referring to as the Xbox One Complete Bundle surfaced early this morning on its retail website. It offers users the chance to get all of things they'll need for the Xbox One without having to buy them separately.
The bundle includes the Xbox One itself, a subscription card entitling the buyer to a year of Xbox Live and their choice of two Xbox One launch titles. Options include Forza Motorsport 5, Ryse: Son of Rome: Dead Rising 3, Call of Duty: Ghosts, Battlefield 4, Madden NFL 25, Assassin's Creed IV: Black Flag, Just Dance 2014, FIFA 2014, NBA 2K14, Zumba Fitness: World Party and Angry Birds Star Wars.
That year of Xbox LIVE will come in handy for users who like to play games with friends and family online. Users who don't game as much will also appreciate that year-long subscription, after all, Microsoft requires that users have an Xbox LIVE Gold subscription to use any of the consoles applications outside of gaming. For example, users can't watch Netflix without it.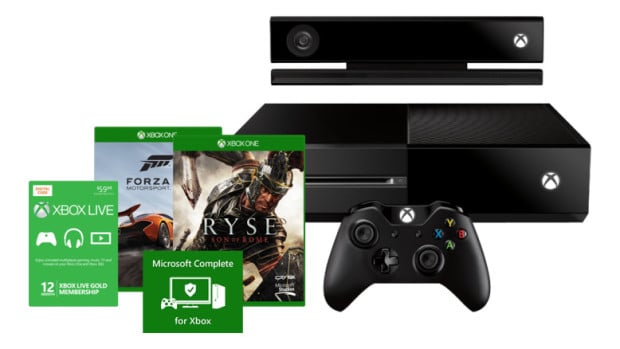 Microsoft's Xbox One Complete Bundle also includes Microsoft Complete, a service plan-type offering that Microsoft says will cover "hardware from defects or malfunctions" for three entire years. For the record, the Xbox One only includes a one-year hardware warranty when sold on its own.
As the deal saves users $50, according to Microsoft, users looking to pick up the Xbox One this holiday season may want to hurry and order the bundle as soon as possible. Microsoft's website indicates that the Xbox One Complete bundle will only be available for a limited time. It also stipulates that users can only order one Xbox One Complete Bundle.
Read: Why the Xbox One Makes a Great Gift for the Entire Family
Bundles ordered today should arrive in time for the holidays. Microsoft is currently not charging users for UPS Ground shipping. However, users who are a bit more excited to get the Xbox One home can get UPS Next Day for $16.99.
The Xbox One Complete Bundle doesn't include an extra controller, so users who want to play games like Forza with more than one family member will need to purchase one separately for an extra $59.99

As an Amazon Associate I earn from qualifying purchases.