Xbox One Buying Guide – Which Xbox One Should You Buy? 
With the winter holidays quickly approaching around the world, the time for purchasing the things you've wanted all year is coming up. During the holidays there are all sorts of deals on just about everything — including Microsoft's Xbox One entertainment console.
Despite all of the first-year predictions from gaming-focused outlets, this generation of console games has defied logic. Within the first year we've seen tons of free codes for games, oodles of new accessories, and limited-time bundles that makes buying an Xbox One an incredible deal this holiday season.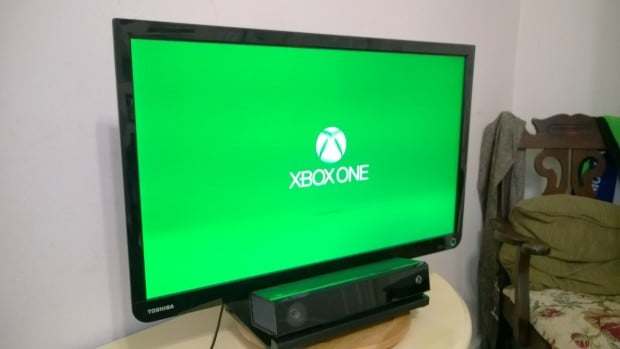 It's those bundles that are more important. If you're planning on purchasing an Xbox One this holiday season, knowing which bundles are available and which one you should purchase is absolutely essential. In this part of the Xbox One Buying Guide we'll help you decide which console bundle to purchase.
Which Xbox One Bundles Are Available?
Microsoft has spent the better part of a full year launching new Xbox One bundles. I'd say its mostly because the company wants to keep interest in the console high. A bigger part of the equation is just that it translates to real users so well. It's easier to explain to someone that they're getting a good deal when they're saving on the cost of a game they'd have to purchase separately otherwise. Nothing works like cutting the overall purchase price, but bundles aren't bad either.
Every Xbox One comes with some essentials. There's the console itself, an HDMI cable, a power cable, a single wireless controller and a chat headset. The Xbox One comes with 500GB of storage, but there's also a single bundle that actually includes more storage than that. Lets break them down.
Xbox One Assassin's Creed Unity Bundle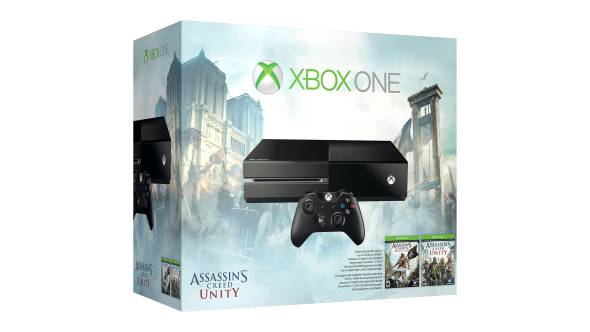 Assassin's Creed Unity is expected to be one of the biggest game launches this year. Naturally, Microsoft is capitalizing on that with an exclusive bundle that gets players everything they need in one package. The Assassin's Creed Xbox One bundle includes a standard Xbox One in black. Also included is a copy of Assassin's Creed 4: Black Flag and Assassin's Creed Unity. Buyers are saving because Unity alone would cost them $60 extra. This bundle costs $350 until early January.
Xbox One Assassin's Creed Unity Bundle with Kinect
The Xbox One Assassin's Creed Unity Bundle comes in two flavors. The first is the $349.99 model that includes the two digital Assassin's Creed games. The second is the Xbox One Assassin's Creed Unity Bundle with Kinect for $450. This version includes all the same extras as the other. It also adds a Kinect 2 sensor for motion gaming, controlling television sets, cables and more. Of the two, I'd say this is the one to buy if you have kids who aren't quite ready for a controller with 14 buttons or you want to use the live entertainment stuff that the Xbox One offers. Buying a Kinect 2 sensor separately is $150.
Xbox One Special Edition Sunset Overdrive Bundle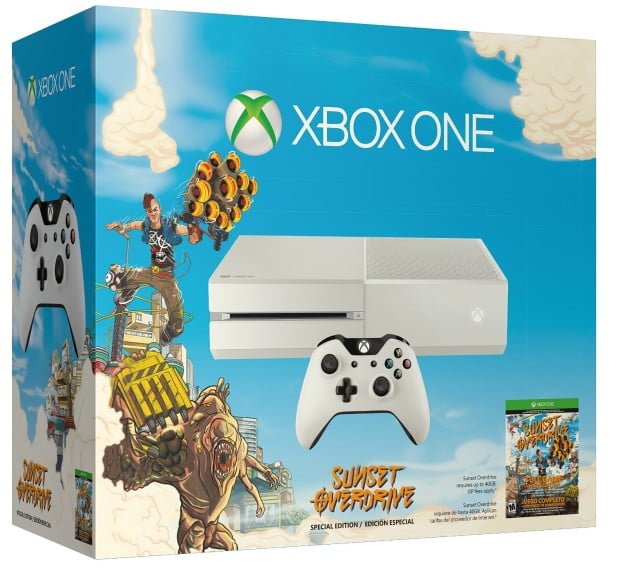 Microsoft is throwing in a free digital copy of Sunset Overdrive with a special-edition Xbox One in the Xbox One Special Edition Sunset Overdrive Bundle. Functionally, the console you get in this bundle is identical to the others. Aesthetically, it's black instead of white and includes a matching white controller. At $50, its great for anyone who needed a game with the system, or already planned on buying the system but would rather have a console that stands out. Microsoft says these are on a very limited run though, so you may want to quickly move on this one.
Xbox One Limited Edition Call of Duty: Advanced Warfare Bundle
Finally, there's the Xbox One Limited Edition Call of Duty: Advanced Warfare Bundle. Other than looks, this the only bundle that provides buyers with a feature that's better than what they get on other Xbox consoles. Instead of a 500GB hard drive, Xbox One Limited Edition Call of Duty: Advanced Warfare Bundle buyers get a 1TB hard drive. That's double the storage, and it'll definitely come in use as you download digital games and apps to your console. Through January its $449.99 and also includes a copy of Call of Duty: Advanced Warfare, the latest title in the first-person shooting franchise. Buying that game separately would normally cost $60.
Others
There are three more bundles that you should be aware of for various reasons, though you probably don't want to set your holiday hopes on getting them. The $350 Xbox One Madden NFL 15 Bundle includes a digital copy of Madden 15 and a standard Xbox One. Purchasing this bundle is an easy score for sports fans, but it's only available in limited quantities at select retailers these days. By late November, it could be gone. There are also the basic console bundles themselves. Microsoft makes an Xbox One with Kinect for $450 and an Xbox One without Kinect for $350.
Which Xbox One Bundle to Buy
Don't buy either of the basic Xbox One bundles if you can help it. Both of them cost the same as a bundle with a game included. You'll be able to quickly identify these because they are in plane green boxes.
As for the other bundles, which one you should person comes down to your likes and dislikes. I like Assassin's Creed. If I didn't have an Xbox One already and wanted to play Assassin's Creed Unity i'd need an Xbox One or a PS4 to play it. Naturally, the Xbox One Assassin's Creed Unity Bundle with Kinect would be the one I chose. Choose the one with the game you like. Another thing I wouldn't do is purchase the Xbox One Limited Edition Call of Duty: Advanced Warfare Bundle unless you planned to purchase that game anyway. The Xbox One supports external hard drives so the extra storage base it has isn't exactly crucial.
Before you pick out an Xbox One bundle, be sure to take into account whether your family needs a Kinect 2 sensor. If its just going to be a hardcore gaming machine for them than you don't need one. If its going to sit in your living room and act as an entertainment console for the entire family, spend the extra money now. Buying the Kinect 2 sensor separately will cost you $50 more, though buyers do get Dance Central Spotlight with it for their trouble.
Read: Xbox One Buying Guide – The Accessories You Need
With games like Titanfalland Sunset Overdrive already available and Halo: The Master Chief Collection, Assassin's Creed Unity and more making their debut, there's never been a better time to pick up an Xbox One. Keep in mind that you may need some Xbox One accessories with your new console. We've broken down the accessories you'll need in Xbox One Buying Guide: The Accessories You Need for easy reference.

As an Amazon Associate I earn from qualifying purchases.