Xbox One Controller With Key Upgrade Leaked Before E3 2015
Microsoft, the maker of the Xbox One video game and entertainment console, hasn't yet taken to a stage to announce what gamers can expect from its console over the next few months. That isn't stopping us from learning a bit about the company's plans for the very near future. Leaks indicate that Microsoft has a new Xbox One Wireless Controller it's planning to announce before or during its E3 2015 Media Briefing.
Support documents added to the official Xbox website by Microsoft and found by enterprising users this week depict an Xbox One Wireless Controller that looks exactly like the Xbox One Wireless Controller that Microsoft has sold bundled with the Xbox One and as a separate accessory since 2013. The only difference, and reason it is attracting so much attention, is a dedicated headset jack that sits on the bottom facing edge of the Xbox One.
Theoretically, users will be able to plug any pair of headphones directly into this Xbox One Wireless Controller, making any pair of headphones completely wireless when used with the system. This is a huge upgrade for the Xbox One. Users could watch Netflix and listen through their controller instead of disturbing someone else in the same room not wearing headphones. It's hard to imagine that the port wouldn't work with earbuds and headsets too, making even the a pair of EarPods a terrific Xbox One accessory since they can be carried around a lot easier than typical gaming headphones.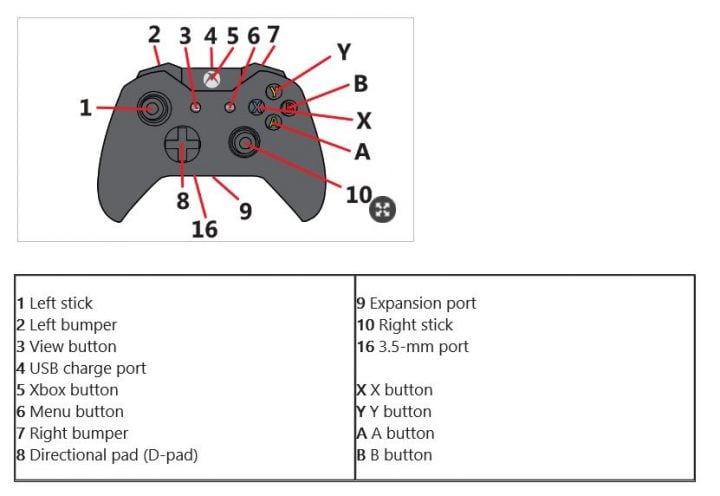 For its part, Microsoft isn't confirming anything about the new Xbox One Wireless Controller. It'd make sense for Microsoft to include the upgraded Xbox Wireless Controller in console bundles so that those who haven't upgraded their console yet can get their hands on it pretty easily. It also seems possible that Microsoft will include the new Xbox One Wireless Controller as a separate accessory that users will have to purchase from a store or its website separately.
If the Xbox One has a big hardware disadvantage it is the Xbox One Wireless Controller. Microsoft seems to have used its Xbox 360 Wireless Controller as a starting point, adding new internal mechanisms like programmable vibrations by developers. The company also added an expansion port. For both controllers the company seems to have focused on providing a decent device to which users could add what they needed. The Xbox One controller requires a separate adapter that must be plugged into that bottom expansion port before users can listen to anything with a pair of headphones. The controller itself doesn't even include an internal battery; users have to purchase an Xbox One Plug and Charge Kit or rely solely on throwaway batteries.
By comparison, Sony's DualShock 4 controller for the PS4 is a marvel. Physically, its lightweight and feels very comfortable in the hand. Expansion-wise, Sony opted to not focus adding features through specific accessories. Instead of purchasing an external battery, the PS4 DualShock 4 controller includes its own dedicated internal battery. An included USB cable allows users to charge up their controller with little effort. There's also a built-in headset jack so that users don't need to rely on a separate accessory for voice and video chatting. In fact, the PS4 includes a mono-earbud that's very similar to the EarPods given to iPhone buyers.
With support documents already available online it seems very unlikely that we won't see this new Xbox One Wireless Controller at this year's E3 2015 Media Briefing. Microsoft plans to share more about its vision for the Xbox One at a huge event that'll be broadcast on Spike TV and streamed to Xbox Ones, Xbox 360s and the web as it's happening in Los Angeles on June

This article may contain affiliate links. Click here for more details.