Xbox One Fallout 4 Patch Release Info
The first major Xbox One Fallout 4 patch is here. With that in mind, we want to take a look at everything Xbox One users need to know about the Fallout 4 patch release.
Last month, Bethesda announced that it was working on the first big update for Fallout 4. The company confirmed plans to roll out a beta to PC users before rolling out the official Fallout 4 patch for PC, Xbox One and PS4. The company has stuck to those plans.
Earlier this week, after two beta releases for PC users, Bethesda took the Fallout 1.02 patch out of beta and released it for PS4 and PC. As expected, the update brings some much needed bug fixes and performance improvements to both platforms. Today, it's the Xbox One's turn.
Fallout 4's 1.2 update for Xbox One is available today. https://t.co/ojry2nw0q0

— Bethesda Game Studios (@BethesdaStudios) December 9, 2015
The first big Xbox One Fallout 4 patch arrived a few hours ago and it's now available for Xbox One users in the United States around the world.
Xbox One Fallout 4 Patch Size
The PC and PS4 Fallout 4 1.02 patches were large so it should as no surprise that the Xbox One Fallout 4 patch is nearly 500MB in size.
As expected, the Fallout 4 patch for Xbox One owners in the United States is right around 500MB in size. It's a shade under for those that want specifics.
If you're running out of space on your Xbox One or external hard drive, now would be a good time to do some clean up.
If you're using a slow internet connection, you might want to plug your ethernet cable directly into the Xbox One to help with the download speed.
Most of you should be able to get the patch downloaded and installed in 5-10 minutes. It took us about four minutes to download over a fast connection.
Xbox One Fallout 4 Patch Details
Bethesda has said that the Xbox One and PS4 patches will be the same which means that the PS4 change log from yesterday is identical to the Xbox One Fallout 4 patch change log.
The developer's first update is loaded up with bug fixes for broken quests, performance issues, and other bugs. Here is a full rundown of the official change log:
General memory and stability improvements

Performance improvements inside the Corvega Assembly Plant

Optimizations to skinned decal rendering

Fixed issue with player becoming stuck in terminals

Fixed issue where equipped weapons become locked after completing Reunions

Fixed issue with "When Freedom Calls" where the quest would not complete

During "Confidence Man" fixed issue where player's health would continuously regenerate

Fixed crash related to jumping into water and reloading saved games
PS4 users are reporting a noticeable boost in performance so it will be interesting to see how the Xbox One patch fares.
Post-patch, PS4 and PC users continue to deal with Fallout 4 problems even after the arrival of the new 1.02. patch. There is clearly still a lot of work to be done and Bethesda's promised regular updates for the game.
It's not clear when the developer plans to release the next Fallout 4 patch for PC, Xbox One or PlayStation 4 though. In the meantime, take a look at our list of fixes for common Fallout 4 problems.
It's also worth noting that the update will take you back to the default settings. So if you play inverted or you use captions to follow dialogue, you'll need to enable those in settings before you play the game. Otherwise, you'll be in for a surprise once you fire up a save.
Fallout 4 Guide for PS4, Xbox One & PC
Fallout 4 Tips for Beginners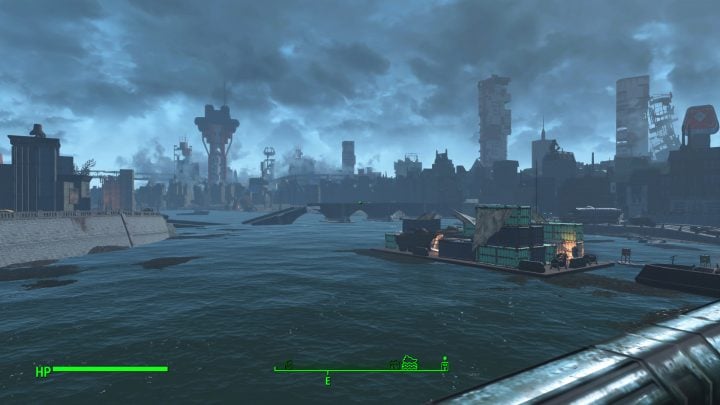 Fallout 4 is an intimidating game. It's a game that could eat up hundreds and hundreds of hours if you let it. There's no wrong way to play the game but there are some thing that we think everybody should do when you first start out.
We've put together a list of tips for beginners and even open-world RPG vets that need some direction. Fallout 4 is a deep game with a mind-boggling amount of crafting. The game also does a bad job explaining some of core mechanics. These tips will help.
We've rounded up those tips in our Fallout 4 explainer for people new to the Fallout series and open-world RPGs in general.

This article may contain affiliate links. Click here for more details.