Xbox One Fans Crowdsource Wish List, Microsoft Says It's Listening
As with any new product that's planning to stick around for a few years, there's always kinks that need to be worked out after it's launched, and the Xbox One is no exception. The internet is filled with complaints from gamers about different bugs and glitches, as well as owners ranting about features that they wish the Xbox One has.
A new website aims to curate all of these complaints and wish lists into one single resource that Microsoft will hopefully take a look at and heed some of the advice given by the gaming community. XboxFeedback.com is a new website, unaffiliated with Microsoft that aims to work "towards a better Xbox," with a list of bugs, problems and requested features for the Xbox One.
The creator of the website says that he didn't make the list "to complain about problems but rather a way to present a list of issues that the Xbox Developers can work on to improve the experience for everyone." This is certainly a change of pace from what we're used to seeing from angry gamers on the internet, but that's definitely not a bad thing.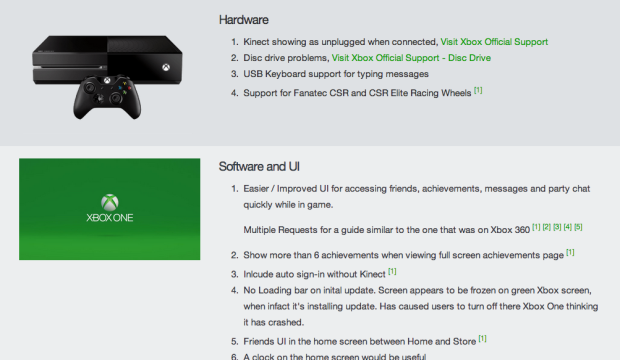 The website's list is fairly long, and it's divided into different categories, such as Hardware, Software/UI, Kinect and Controller, as well as more-focused categories, including Skype and Notifications.
On top of the website, there's also a Reddit thread that's meant for Redditors to write down their Xbox One feature wish list, as well as report any issues that need to be fixed. One might say that Microsoft probably won't see the website or the Reddit thread, but those people would be very wrong; Microsoft's own Larry Hryb (a.k.a. Major Nelson) chimed in on Reddit, saying that he has already passed along the list of fixes and requests to top men working on the development of the Xbox One. Hopefully we'll see some progress over the next few months.
Xbox One owners can send in their bugs, problems, issues and feature requests with the Xbox One either directly on the website or in the Reddit thread.

This article may contain affiliate links. Click here for more details.