Xbox One Gets Lightning Fast Upgrade 
Having delivered transparent tiles that let users see past their apps and games and gaze at the background picture they've chosen for their profile, Microsoft, makers of the Xbox One, has a new update in store. This latest last software won't add new features or make big changes to Xbox Live. Instead, the ridiculously fast upgrade will improve performance for a key part of the Xbox One experience. This new update cuts the time the Xbox One controller takes to connected in half.
Microsoft's MajorNelson web blog announced the new Xbox One controller upgrade in a post last night. To be more specific, it's less of a software upgrade and more of a firmware upgrade meant for the Xbox One controller itself. Following the update, users should notice that it takes at less time for their Xbox One controller to sync up to the their system According to Microsoft's post, we're looking at a connect time reduction of half. Following the firmware upgrade, Xbox One owners should see connection times of just a few seconds.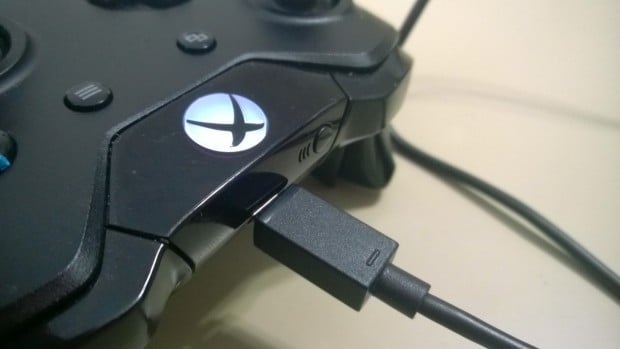 Also included in this Xbox One controller firmware update are some stability improvements, according to last night's blog. Right now, this new Xbox One controller firmware update is exclusive to Xbox One consoles participating in the Xbox Preview Program. If the changes work fine there, Microsoft plans to roll it out to all Xbox One users at a later date. Presumably, it'll launch for everyone alongside the February Xbox One update that includes more social networking features for Xbox Live and transparent Live Tiles. Xbox Preview Program users have had that update available to them for some time. If fact, it's hard to imagine that Microsoft won't roll both of them out in the next week or so.
The Xbox One doesn't yet automatically update Xbox One controllers firmware. Instead, users need to plug their controller into their Xbox One. The Xbox One doesn't come with a microUSB cable needed to to upgrade controller firmware inside the box. Instead, you'll need to use one that you may have laying around the house. Every smartphone except for Apple's iPhone comes with a microUSB cable at this point that'll do the job just fine. Microsoft's own battery pack for the Xbox One controller comes with a microUSB cable too. That'll also work.
After plugging in the controller to the Xbox One users will need to head to the Devices area in the Settings app to perform the update. GottaBeMobile walked users through the process of updating their Xbox One controllers last year when Microsoft sent out new firmware for the first time.
Read: How to Update the Xbox One Controller
Again, only members of the Xbox Preview Program are getting the new controller firmware today.
Sending out fixes for the Xbox One controller, is one of the many advanced features available thanks to Microsoft's more nuanced updating process. With the Xbox 360, users received major software updates once annually in recent years and twice a year earlier in the console's life cycle. Since releasing the Xbox One, Microsoft has kept a steady stream of big software updates running. At release there was no easily discoverable way to see how much storage space an Xbox One console had used. Instead of giving users the tools to manage game installs directly, Microsoft insisted that the Xbox One took care of that already. Today, there's a storage meter built directly into the My Games and Apps area. Backgrounds, a better Friends app and more social networking features are among the changes to have come in Microsoft's monthly Xbox One updates.
The Xbox One is on store shelves beginning at $349. A version of the console that includes the Kinect 2 sensor is available for $449.

This article may contain affiliate links. Click here for more details.