Xbox One, PlayStation 4 Pre-orders Biggest Ever For Amazon
Today Amazon announced that last week was the biggest pre-order week in the history of Amazon Video Games, thanks to the announcements of the Xbox One and PlayStation 4.
Last week, following the Microsoft and Sony E3 press conferences, Amazon reports that users pre-ordered more than 2,500 Xbox One and PlayStation 4 consoles per minute during "peak demand." Those sales helped propel the two consoles to the top of the Amazon Video Games sales charts as soon as the retailer made them available.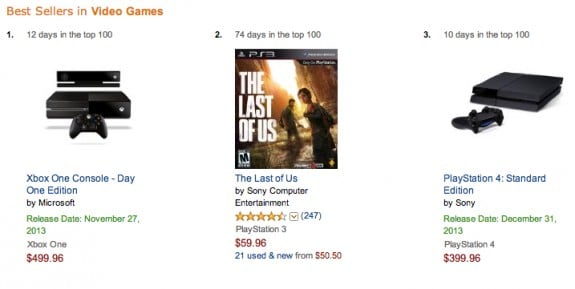 The large number of pre-orders led to a year-over-year increase of console sales of more than 4000 percent. The number proves that after eight years gamers are ready to adopt new consoles, even if those consoles won't play games from the current generation consoles.
Amazon's sales on the first day of console pre-orders even eclipsed Amazon Video Game sales from Black Friday 2012. The number of pre-orders almost doubled the number of video games ordered through the online retailer during the biggest shopping day of teh year last year.
Almost two weeks after the consoles first went up for pre-order on Amazon and other retailers, the Xbox One tops the Amazon Video Game sales charts. The PlayStation 4 Standard Edition stands at number three behind the PlayStation 3 game The Last of Us. There are four other versions of the PlayStation 4, including three bundles and the Launch Edition in the top 20, however.
The Xbox One will arrive sometime in November of this year and will cost $499. The Day One Edition of the console that tops the Amazon sales charts comes with a special edition controller and an exclusive achievement. Microsoft recently reversed the DRM policies for the console, making it more appealing to some gamers.
The PlayStation 4 will release sometime this holiday for $399, $100 less than the Xbox One. A recent rumor claims the console may come out on November 13, 2013. While Amazon is sold out of the Launch Edition of the console, it does offer bundles that come with games like Watch Dogs, Battlefield 4, Killzone: Shadow Fall and Knack.