Xbox One Privacy and Security Settings You Should Care About
The Xbox One is out in full force, and we've already played around with it quite a bit (look for a full review in the coming weeks), but while the games, apps and entertainment features of the new console are the main event, sometimes we forget about the more important things, namely privacy and security.
While you're setting up your fancy new Xbox One, it's a good idea to familiarize yourself with the privacy and security settings, as these will help enhance or hinder your experience when playing with the new console. Here are some of the more important privacy and security settings that you should be aware of.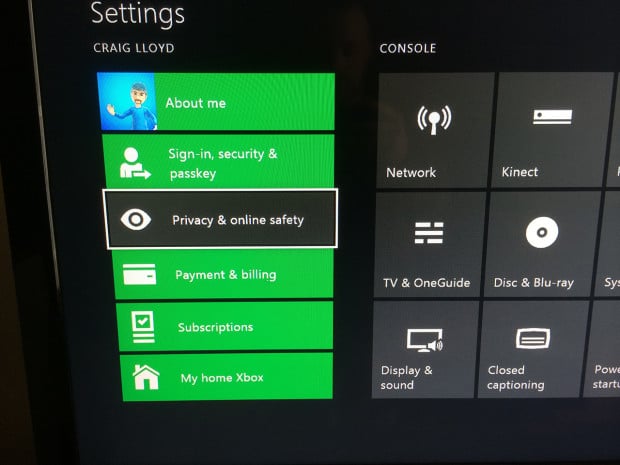 Kinect Sign-In
Kinect sign-in allows you to sign into your Xbox Live account by having the Kinect sensor do it for you. It can recognize who is sitting in front of the television and will automatically sign in that person. The Kinect sensor is a lot better with the Xbox One, compared to the Xbox 360, so this feature works really well, but for those who don't like face-recognition can turn it off in the settings: navigate to Games & Apps > Settings > Sign-in, security & passkey and select where it says Kinect sign-in. From there, you can turn it on or off.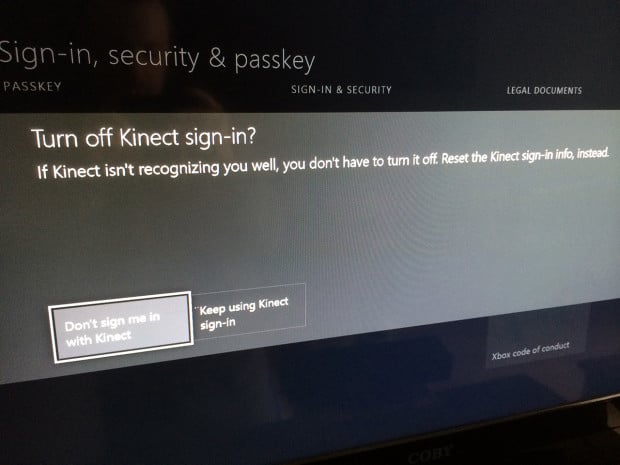 Sharing Content
When you navigate to Games & Apps > Settings > Privacy & online safety > Custom, you'll see a big list of customizations you can make that can limit what gets shared with other Xbox users. Here are some of the sharing settings that you should know about.
Share game clips
The Xbox One records short video clips during a game, and while you can disable this entirely, you probably just want to limit what clips get uploaded into the ether for all to see. Here you can select either Allow or Block to sharing these game clips.
Share content made using Kinect
Choosing Allow or Block on this setting will determine whether or not content that you create outside of Xbox Live will be shared with your Xbox friends and other Xbox users. As with the previous setting, if you're not too fond of sharing your usage habits with outsiders, it might be best to block this feature.
Share on social networks
A lot of us aren't big into social networking, so you can either allow or block automatic sharing to social networks to prevent your Xbox One activity from showing up in your Facebook or Twitter feeds.
What Others Can See
These are most likely the settings that you'll care the most about, seeing as they deal with what others can see as far as your Xbox One activity is concerned. With all of these settings on and live, all of your Xbox One activity is seen by your Xbox Live friends, and sometimes even anyone taking a look at your Xbox profile.
See if you're online
If you're a fairly private person and prefer to do your gaming sessions alone, you can make it so that friends can't see that you're online, essentially making yourself invisible while you game on. You can select Everybody, Friends or Block. Selecting Block will make you completely invisible to anyone on Xbox Live.
See what you're watching or listening to
These next few settings won't make you invisible completely, but they allow you to customize exactly what other gamers can and can't see when it comes to your Xbox One activity. This one in particular, allows you to allow or block whether or not others can see what you're currently watching or listening to, whether it'd be a TV show, movie or music album.
See your Xbox profile
If you'd rather hide your Xbox profile from the general public, you can set it so that just your friends are able to see it. This is similar to hiding your Facebook profile from outsiders, and only friends can see the complete profile. Personally, I have this set to Everybody, just to make it easier for folks that I might know to find me in the Xbox community.
See your game and app history
You can set it so that only your friends or even no one can see what games you've been playing and what apps you've been using. You can also allow anyone to see your game and app history if you're into that.
See your live TV & on-demand video history
This setting only applies to those who have their cable box routed through their Xbox One console, but changing this setting will change who can see what you're watching on TV. I'm a pretty open guy, but I set this to Block, because I feel this is a bit too intrusive for my tastes; I doubt many people are interested in what TV show I'm watching right this second.
See your music history
Just as with your game, app and TV history, you can choose whether or not to share your music-listening habits with others. Since I don't even use the Music app on the Xbox One, I have it set to Block, but it's always fun to see what other friends are listening to, just be sure to set this feature to Block as well if you listen to a lot of guilty pleasures that you're not too proud of.
See your friends list
If you'd rather not have outsiders have access to who you're friends with, you can easily block this in settings, so that either only your friends can see who your other friends are, or you can set it so that no one can see your friends list, not even your friends.

This article may contain affiliate links. Click here for more details.