Xbox One & PS4 GTA 5 Release: 11 Things You Need to Know
The Xbox One & PS4 GTA 5 release date arrives this week delivering better graphics, a new first person mode and plenty of fun for gamers who can't wait to play the new and improved Xbox One and PS4 GTA 5 release.
Many gamers already played GTA 5 last year, but the Xbox One & PS4 GTA 5 delivers a new experience even with the same story and main characters. Whether you are still playing GTA Online and GTA 5 or if you plane to jump into the game for the first time on the new consoles, there is a log you need to know about the Xbox One & PS4 GTA 5 release.
Read: Xbox One & PS4 GTA 5 Cheats
You don't need a Xbox One & PS4 GTA 5 pre-order to buy the game, but if you do pre-order you can score bonus items to help you out in the game. There aren't a ton, but you can find some GTA 5 deals if you want to save on the purchase.
Keep reading to learn what you can expect from the Xbox One & PS4 GTA 5 release date, specifically what buyers need to know. This is just the release for Xbox One and PS4, the PC GTA 5 release is still months away.
[easyazon_link asin="B00KVSQ848″ locale="US" new_window="default" nofollow="default" tag="gbm-ea-20″ add_to_cart="default" cloaking="default" localization="default" popups="default"]GTA 5 is available on Xbox One and PS4[/easyazon_link], this is an upgraded version of GTA 5 for Xbox 360 and PS3, which arrived in fall 2013. The game retails for $59.99.
Xbox One & PS4 GTA 5 Release Date
The Xbox One & PS4 GTA 5 release date is on November 18th. We don't expect stores to sell out of GTA 5 on the release date, as Rockstar likely has a very good idea how many users will buy the game.
If you want to stop at GameStop, Walmart or Best Buy on your way home from work or school, you'll certainly find copies of the Xbox One & PS4 GTA 5 game sitting on shelves.
You can also buy the game digitally, but you'll want to pre-load the game otherwise you'll be waiting for a long time on the release date. The digital Xbox One & PS4 GTA 5 release time is 12:01 AM eastern, and if you pre-load you can start playing right away.
Xbox One & PS4 GTA 5 Graphics Upgrades
The Xbox One & PS4 GTA 5 release brings more detailed graphics to the PS4 and Xbox One. The image below from GTA Forums, shows off the added details and graphics from the most recent GTA 5 release trailer.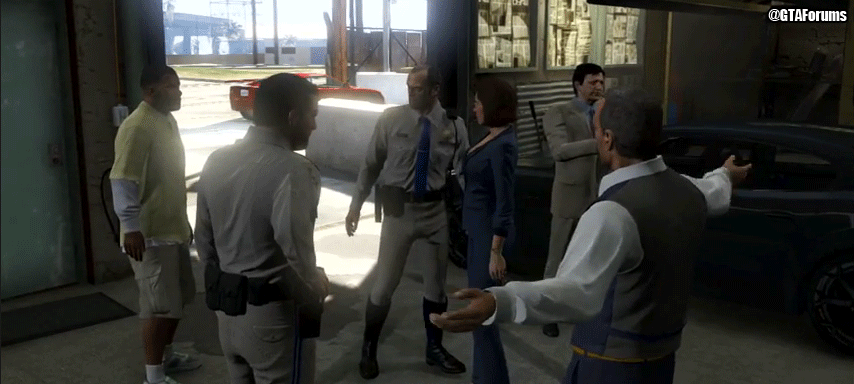 You can watch the video below comparing GTA 5 for PS4 vs PS3 using the launch video. Note the more detailed graphics throughout the trailer for a look at what's new. Overall it looks like the new GTA 5 release will bring a significantly better looking experience.
GTA 5 First Person Mode
The big new feature in the Xbox One & PS4 GTA 5 release is a new first-person mode. Instead of a camera behind the player like in GTA 5 and previous Grand Theft Auto  games you can see first person like most shooters. This includes detailed weapons, a new point of view and even detailed dashboards in the cars. Check out the new first-person GTA 5 PS4 and Xbox One exclusive feature below.
Xbox One & PS4 GTA 5 Reviews
Last year we saw plenty of GTA 5 reviews, but so far there is little chatter about new Xbox One and PS4 GTA 5 reviews. There will certainly be reviews of the new version on Xbox One and PS4, but the timing is up in the air. There is no talk about embargoes for the new GTA 5 reviews, so we may see reviews arrive this week, or shortly after the game goes live.
Xbox One & PS4 GTA 5 Pre-Order Bonus
Returning players who pre-order the Xbox One & PS4 GTA 5 release can unlock nine special options including cars, a seaplane, weapons and other specials. You can see a list of items that are open to all players who completed the prologue on PS3 and Xbox 360.
The Dodo – Scour the coastline to find this GTA classic seaplane
Impnte Duke O'Death – When you find it, trouble follows this menacing new ride
The Rail Gun and Hatchet – New weapons and shooting range challenges
Murder Mystery – Find the clues to solve this case and unlock film noir game filters
Stock Car Races – New race location unlocks 4 new liveries
Wildlife Photo Challenge – Capture photos of new animal species to unlock the new kraken sub
Monkey Mosaics – Find them all to unlock monkey outfits and monkey blista
Xero Blimp – Take to the skies in this fast and maneuverable blimp
Marshall Monster Truck – Grind over anything in your path in this beastly new vehicle
When you pre-order you also get a million dollars in GTA cash. You can use $500,000 for the story mode and $500,000 to use in GTA Online.
Midnight Xbox One & PS4 GTA 5 Release
If you don't want to buy the game digitally, you can still go to stores to buy the Xbox One & PS4 GTA 5 game at midnight.
Best Buy and GameStop will both sell GTA 5 at midnight on November 18th at 12:01 AM Eastern. You'll want to check which Best Buy stores near you are open, but most GameStop locations are open for the event. If you live further west you can play even earlier.
If you live on the west coast you can actually buy GTA 5 early, at the same time as the east coast. Here's when you can buy GTA 5 at GameStop early.
Eastern: 12:01am on 11/18/14
Central: 11:01pm on 11/17/14
Mountain: 10:01pm on 11/17/14
Pacific: 9:01pm on 11/17/14
Alaskan: 8:01pm on 11/17/14
Hawaiian: 7:01pm on 11/17/14
You can check to see if Best Buy is open early in your area, but so far GameStop is the only confirmed location.
Xbox One & PS4 GTA 5 Deals
So far there are two main Xbox One & PS4 GTA 5 deals you can take advantage of. If you own GTA 5 on PS3 or Xbox 360 you should be able to trade in for $30 in credit at Target. This is from a leaked ad, so there is a chance we won't see it arrive today, but overall it looks like the cheapest way to upgrade. You can only do this at stores with a Target Mobile location.
Best Buy also offers a $10 pre-order bonus with GTA 5. This is a reward certificate, but you can use it towards more games or accessories later on.
Bring Your GTA Online Character to Xbox One or PS4
When you upgrade you can bring your character from GTA Online from PS3 and Xbox 360 to the new console. You can even bring the player from Xbox to PS4 and PS3 to Xbox One. You can do this once and you cannot play on the old console and bring over new progress later on.
GTA 5 for PC Release Coming Much Later
For users looking forward to playing GTA 5 on PC, you'll need to wait several more months. The GTA 5 PC release date is January 27th, 2015. We expect to hear more about this release including special options and features as the year comes to an end.
PS4 GTA 5 Black Friday Bundle
Every PS4 Black Friday deal includes a copy of GTA 5. For $399 you can buy a PS4 with GTA 5 and a digital copy of The Last of Us Remastered. For users who are looking for a PS4, this is an excellent deal to look into. You can also check out our in-depth look at are PS4 Black Friday deals worth buying.
GTA 5 Cheats
Last year we saw a large number of GTA 5 cheats and we expect to see the same Xbox One and PS4 GTA 5 cheats available with the new releases. You can use GTA 5 cheat codes to spawn vehicles, items, raise and lower your wanted level and more. We expect they will be the same as on the old version, including access through speed dial. When you use a GTA 5 cheat code it will disable achievements for that session.