Xbox One & PS4 Setup Tips for Parents & Gift Givers
You weren't alone. Thousands, maybe even millions of adults around the world spent an untold amount of time waiting in lines and calling video game stores hoping to score an Xbox One or PS4 entertainment console for their family. The PS4 and Xbox One are video game consoles first, but they each have features that the entire family will love.
Here's the problem though. For all the new entertainment features and all the cool extras that both consoles offer, setting them up isn't exactly easy. Here's what you need to know if you purchased a PS4 or Xbox One for your family this holiday.
The Setup Process
Let's start with the setup process for your family's new console. To get an Xbox One or PS4 working in your home you're going to need some essentials, essentials that a sales person may or may not have made clear at the store you purchased your console from.
Both the Xbox One and PS4 deliver better graphics than their counterparts. To do that they both use an HDMI port that's nestled on their back edge. You'll need to plug in both consoles to the HDMI port on your television, which means you'll need a television that has HDMI input. Chances are that you do, any television purchased in the last ten years definitely does. Look at your television now to make sure. If you don't have an HDMI port on the television you were planning to put your new console on strongly consider upgrading your television. If that's not something you're willing to consider, there are converter boxes available on Amazon that can do the job. This $49 TMVEL converter has received high marks on Amazon and should be able to convert the signal coming out of the Xbox One or PS4 for your television. It's going to be very hard to find one of these converter boxes in a retail store before the holiday.
Both the Xbox One and PS4 support wireless networks out of the box. If you already have a wireless network, you'll just need to select that wireless network in the menu settings and put in your password. If you don't have a wireless network at home, don't fret. You can plug the Xbox One directly into your home network using a spare Ethernet cable. Amazon sells basic ethernet cables on its website. Pricing depends on size. Unlike with the converter box, you aren't sunk if you don't already have one. Ethernet cables are available at any electronics retailer. If you have internet access at home, but don't have a router, you'll need to purchase one so that more than one device can use your internet access at a time. The Linksys N300 Wi-Fi router is a personal favorite of mine, you can find it on Amazon and at your local electronics retailer for around $40.
You will need an internet connection to get through this setup process. That isn't a permanent requirement though.
It'll help your process a great deal if you already know how to switch the inputs on your television too. GottaBeMobile broke down the setup for the Xbox One and PS4 separately last year. Those details haven't changed.
[ How to Setup an Xbox One – How to Setup a PS4 ]
Unbox it Early and Start The Updates
I'm told that there's no feeling more amazing than watching your family get excited about a gift you've worked hard all year to provide for them. Nothing ruins that moment like having to sit through a very long, very boring set-up process for the rest of the day. You can't avoid setting up the Xbox One or PS4, but you can avoid hitting some of the snags that turn it into an all day process.
First, unbox the Xbox One and PS4 early. You'll want to do this late at night and make it through the setup process because both consoles require software updates for crucial features. That's why having an internet connection during the setup process is important. On a typical day these software updates could take an hour or so. There's no telling how long they'll take on Christmas morning when everyone is trying to update at the same time. Getting these software updates out-of-the-way now gets you one step closer to a peaceful Christmas morning.
The Xbox One and PS4 both offer games that are on discs. You've probably already seen them in a store and picked one up. Each supports digital games too. These games work sort of like apps on your smartphone, you enter a code or purchase them on your credit card and they download directly to your console. All games have need to be installed on the PS4 and Xbox One, whether they are disc or digital. Here's the trick, the digital installation takes a lot longer. In most cases you're looking at hours of download time. During that download playing a game is possible, but very limited.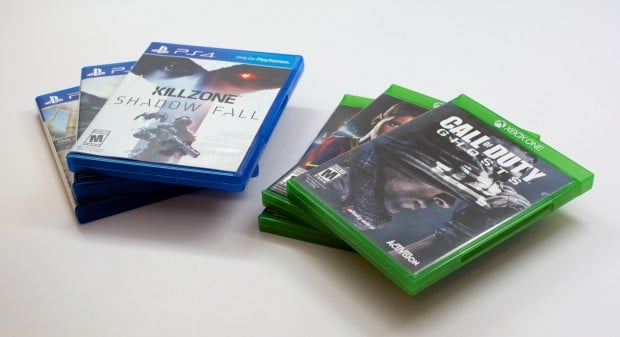 If you plan on purchasing Xbox One or PS4 games for your family digitally, take this into account. Purchase those games the night before and begin the download process. Don't wait until they day of. Also, note that every Xbox One and some PS4 bundles come with a digital game or two already. You'll want to go ahead and begin the download on those.
Add The Necessary Accounts
Xbox Live and PlayStation Network are the lifeblood of their respective consoles. Microsoft's Xbox Live service connects to Windows and Windows Phone. Chances are the only thing you'll need to do is enter your Hotmail, MSN or Outlook account in the Xbox One and you're ready to go. Don't have an Xbox Live or PlayStation Network account? Relax, you'll be able to create one during the setup process.
What you need to watch out for is the details. You can create one Xbox Live or PlayStation Network account for the entire family if you want, but it's a better idea to create accounts for the entire family. This is important because you might want to restrict your children's access to more violent games. Don't skimp on this. Do the necessary setup now and it'll pay dividends down the road. Fail to do so and you could end up giving access to your credit card to your children to download whatever they want.
I'd take this opportunity to download the apps for any video or music services you know your family will use too. Both the PS4 and Xbox One offer Netflix, Hulu Plus and streaming music services.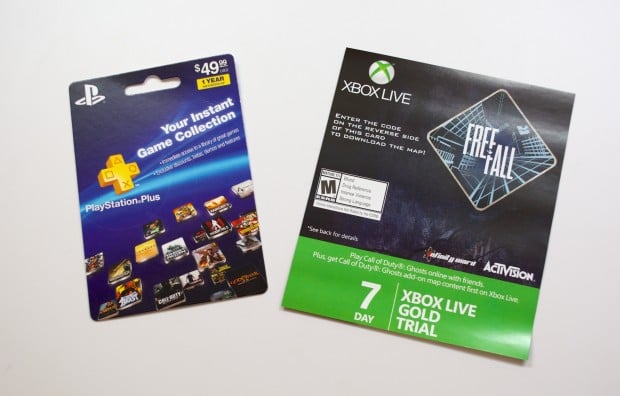 Now, let's talk about Xbox Live Gold and PlayStation Plus. Both the PS4 and Xbox One require online subscriptions to play online with other people. Redesigned for the Xbox One, Xbox Live Gold unlocks multiplayer access, free trials and lets users download to games a month. Xbox Live Gold costs $9.99 a month or $60 a year and can be purchased directly from the console and made available for the family. PlayStation Plus costs just $50 a year and does the same thing for the PS4. It's also required to play games online with other people. Don't worry, both offer a free trial in the box. This gives you some time to see what your family's habits are and if subscribing is worth it.
Good luck with your Xbox One or PS4 purchase this year. You can always box your console back up after the setup process if you'd like to still lay claim to some of that holiday morning magic.

This article may contain affiliate links. Click here for more details.