Xbox One Release Date Tips for Buyers
The Xbox One release date is here later tonight as many retailers open late on Thursday night to start selling the Xbox One Day One edition as soon as the clock rolls over to 12:01 Am local time.
For gamers who ordered online, the Xbox One should be on the way from UPS or FedEx and shoppers with a pre-order at GameStop, Best Buy and Walmart are undoubtedly watching the clock in anticipation of lining up after school, work or dinner to get their hands on the first new Xbox in almost a decade.
We've rounded up the tips you need to know for he Xbox One release date. While picking up a pre-order is relatively straightforward there are some things you need to take and if you are getting the Xbox One from amazon through UPS, we have a tip that might let you get your console hours ahead of the 8PM delivery time that many users are seeing.
Read: 10 Things Xbox One Buyers Need to Know
The Xbox One release date is Friday November 22nd, but many stores will start events later tonight and will sell the console at 12:01 AM to buyers who line up. Not every store will be open for a Midnight release, but most of the big names n retail are planning a midnight Xbox One release event.
Xbox One Midnight Release List
If you ordered your Xbox One from a major electronics retailer or department store, odds are good they will be holding a special midnight release event tonight. The great news is that the PS4 release prepped them for what to expect, so there should be smooth sailing at most stores.
Best Buy – 12:01 AM
GameStop – 12:01 AM
Walmart – 12:01 AM
Microsoft Stores – 12:01 AM
Target – 8 AM
Many of these stores holding midnight releases will open earlier in the day to finalize the details for a faster checkout process at midnight. GameStop opens at 6 PM to complete all but the last part of your Xbox One pre-order and Best Buy will start the process two hours before midnight. If you are going to Walmart, look for a line in the electronic section.
Some Best Buy stores will open at 8 AM for the Xbox One release date as well.
Get There Early to Game Faster
If you want to get home, download the Xbox One release day update and get on with the gaming, you should get to the store early — even if you have a pre-order. The stores will process orders based on the order customers lined up. So even if your Xbox One pre-order is months older than the guy at the front of the line he will still get his first. You'll still get one as supply is set up to meet pre-order demand, but you won't get it first.
Most of the retailers are processing orders two to six hours ahead of midnight to make things go smoother as soon as they can start selling the Xbox One. If you don't have a pre-order you will want to get there even earlier.
Xbox One Release is Best Bet Without a Pre-Order
If you did not get an Xbox One pre-order for release date delivery or pickup on release date, this is the best time to try to get an Xbox One this holiday season.
Microsoft assured us that retailers will have extra Xbox One consoles to sell on release day for users who did not pre-order.
We had good luck buying a PS4 at GameStop without a pre-order and Best Buy in Ohio tells us that they expect to have some additional units on hand, though they did not tell us how many they will have.
There will be separate lines for those with an Xbox One pre-order and those without, so make sure you get in the right line.
Very Long Lines
Expect long lines at Target, Best Buy, GameStop and Walmart, but if you are lucky a pro athlete will join your line and buy everyone an Xbox One.
Best Buy will likely let shoppers into the store around 9:30 and GameStop is holding the event for six hours so gamers can come in and hang out with store staff and other gamers.
If you plan to wait in line for the Xbox One, bring food, friends and dress appropriately for your local weather because some of your time may be outside.
Tons of Xbox One Games
We don't expect a shortage of Xbox One games at stores on the Xbox One release date. Best Buy and Amazon shipped many pre-ordered games, which arrived earlier this week to many homes. In store many of the games were still pre-orders, but will be available later tonight. There are over 20 Xbox One games available at release on disc or digital, including the following,
Assassin's Creed IV Black Flag
Call of Duty Ghosts
FIFA 14
Battlefield 4
Just Dance 2014
Lego Marvel Super Heroes
Madden NFL 25
NBA 2K14
NBA Live 2014
Ryse: Son of Rome
Need For Speed Rivals
Skylanders SWAP Force
Crimson Dragon
Dead Rising 3
Forza 5
Killer Instinct
LocoCycle
Xbox Fitness
Zoo Tycoon
Zumba Fitness Party
Gamers can buy these games in store or directly on the Xbox One as a digital download. If you buy a game digitally you can play it on your Xbox One and on a friend's when you sign in.
Lack of Xbox One Accessories
There will be a few Xbox One accessories available in stores on the Xbox One release date, but it will be mostly limited to Xbox One controllers, a plug and charge kit and a Nyko charging kit.
There will not be a huge number of third-party Xbox One accessories like there are for the Xbox 360. Many of the fighting sticks, racing wheels and third party Xbox One headsets will not arrive until February 2014.
If you have an existing headset that uses optical out, you can plug this in and use it for game audio, but chat will not work through it.
Get Faster UPS Delivery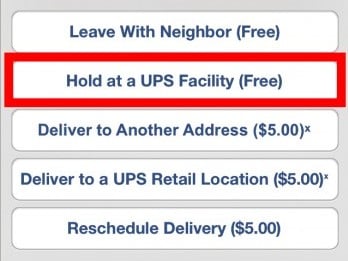 Many times Amazon UPS deliveries come late in the day, as late as 8 PM for us. That's a long time to wait for the Xbox One, but you can hold the Xbox One UPS delivery at the local UPS Customer Center to pick it up earlier.
If your UPS deliveries typically arrive late in the day as well you can have it held at the UPS Customer Center near you for pickup on the Xbox One release date. Be sure to check the hours of the Customer Center as they may only allow pickups later in the day, depending on their hours. Also, the closest one may be a little bit of a drive.
Luckily many of these locations re open 8 AM to 8 PM for pickups, so you will be able to pick up your Xbox One as early as 8:30 according to UPS. If you have UPS My Choice you can use the iPhone or Android app to change delivery or use the web. If you need help reach out to @UPSHelp on Twitter.