Xbox One S Review: More for Your Money
Microsoft began letting early adopters take their first version of the Xbox One home one cold November night three years ago. Now the company is back with the Xbox One S, a redesigned evolution of that first console.
The right mix of hardware inside lets this Xbox One make the most of a 4K television for games and video. Gamers with lots of digital titles could find themselves having to uninstall games to make way for new ones less often. The Xbox One S is both smaller and quieter than the console it replaces. Starting at $299, it comes in 500GB, 1TB and 2TB models. There's a new wireless controller that supports Bluetooth in the box.
Lots of Xbox One owners have already rushed to stores to replace their aging original console.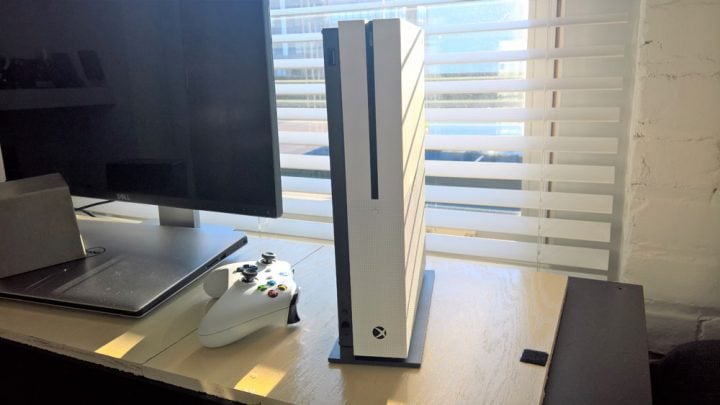 The real measure of this Xbox One S is two-fold though. First, does it offer a better experience to those that don't already own an Xbox One? Second, does it keep up with the latest developments from PlayStation?
Indeed, it does both.
Xbox One S Review: Hardware & Internals
Certainly, the Xbox One S looks more approachable than the previous model. Decked out in white, red, blue or green, depending on which bundle you buy, the console is much less unwieldy. It's 40% smaller than the original Xbox One. It's lighter too, but I don't think newcomers will care about either if they aren't frequently moving their console from one place to another.
What they will care about is its less scratch-prone casing. I don't remember moving my Xbox One from its place in my entertainment center once, but boy did it have some scratches on its gloss black surface when I went to resell it to get an Xbox One S.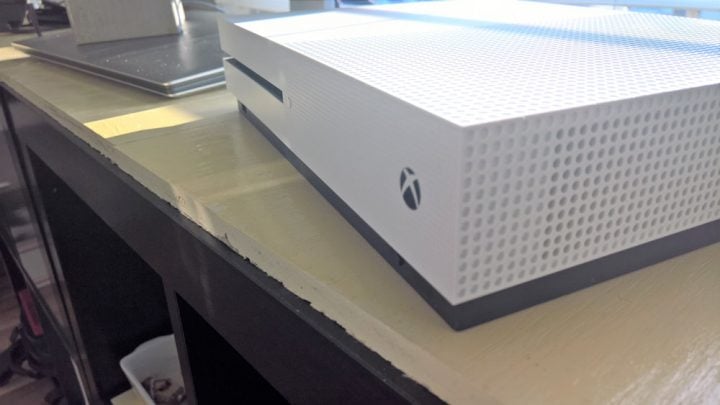 Read: Xbox One S Bundles – Which to Buy?
Someone on the design team bet big on common sense button placement that wasn't there for the original. On the front is everything that you need to operate the console from day to day, including a USB port, controller sync button and console power button. That's a big change from the original console, which had the USB port and the controller sync button on the left side for some reason. No one expected them there. I always had to show my friends how to get my spare controller working when they came over.
The Xbox One S keeps most of the original ports. HDMI out, HDMI Pass-through, two USB ports, S/PDIF Audio and Ethernet are all on the back.
There's no Kinect port, but Microsoft is giving out free USB adapters for those that upgrade from the original to this one. If you're buying a new Xbox One S and want to play motion games, give voice commands, sign in effortlessly or Skype chat with a Kinect, you'll need to purchase an adapter that costs $39.99. This is one change that definitely doesn't sit right with me. Thankfully, the transmitter on the front of the Xbox One lets the console control your television and cable box without relying on Kinect. My advice is to just skip motion gaming and the Kinect altogether.
Read: Xbox One S vs Xbox One
The power supply is now built into the console. This change makes it a tiny bit simpler for novices to set up. Previously, each of the company's consoles had this huge power brick that needed to be connected. Xbox One Wireless Controllers now have Bluetooth technology built-in. They get better range and you can use them on a PC without a ridiculous looking $24.99 adapter.
Xbox One S Review: Experience & Software
The Xbox One S is just a revision of the original console, not an outright new piece of hardware. Its look may be fresh, but its software is not. All the games that you can play on the Xbox One, you can play on the Xbox One S. All the apps that you can download on the original are available here.
Luckily, that doesn't do the console a disservice –mostly. The Xbox One S is easy to navigate with either a remote or the Xbox One Wireless Controller.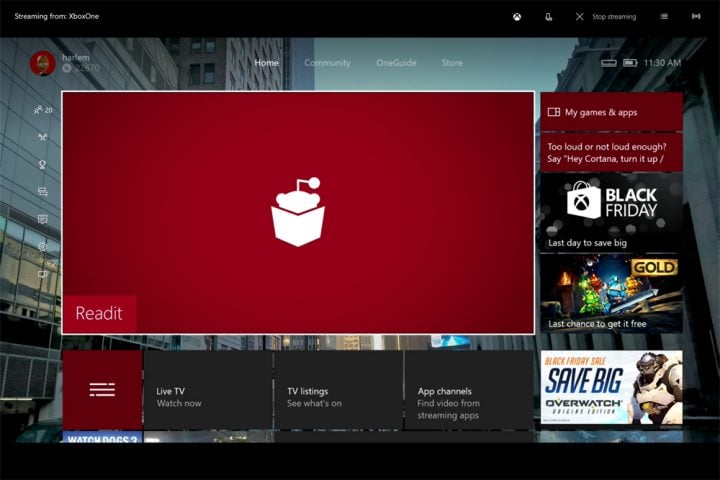 The experience remains divided into Home, Community, OneGuide and Store areas. Most people will spend their time flipping between Home, Community and the Guide that flies out from the left edge of the software. The My Games and Apps area offers links to titles that you have installed and fast information about those games.
Community and the Xbox Guide are the two software features that stand out to me the most. The Xbox and Xbox 360 fostered community building in ways that the Xbox One didn't until recent updates. Today, it's easy to find out what your friends are playing. Looking For Group makes it incredibly simple to recruit gamers you've never met before. Clubs let you stay in contact with them long after your multiplayer session has concluded. Microsoft has done well by those looking for a streamlined social experience on Xbox One and Xbox One S. That's definitely commendable.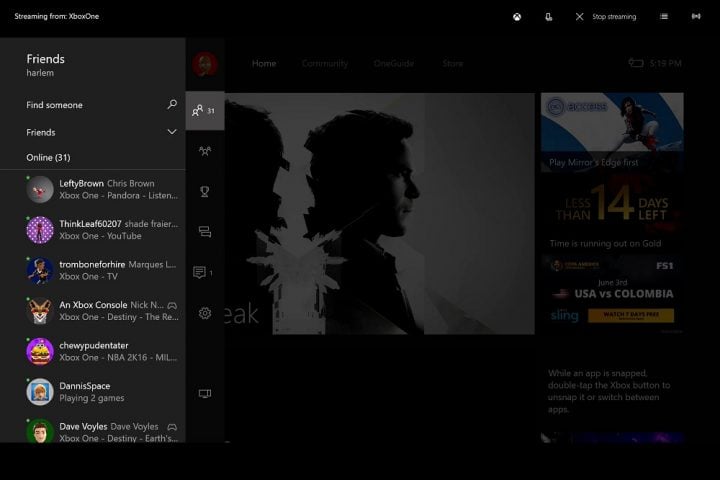 As for the Xbox Guide, it puts those social features, plus things like background music and messaging a few button presses away. The original Xbox One software experience didn't have background audio and forced people to jump from app to app to get at what they wanted.
To be clear, none of these software features are exclusive to Xbox One S, but they're important for newcomers considering the console.
Xbox One 4K & HDR
The most important upgrade here is the ability for 4K video and gaming support with HDR. The Xbox One S offers a huge improvement over watching HD video on the Xbox One. With HDR10, colors have a wider range.
Getting 4K and HDR features going is incredibly easy thanks to the software running on the console. The Xbox One S does checks to see if the television you've paired it with is capable of HDR and 4K. The setup process couldn't get any easier or more straightforward.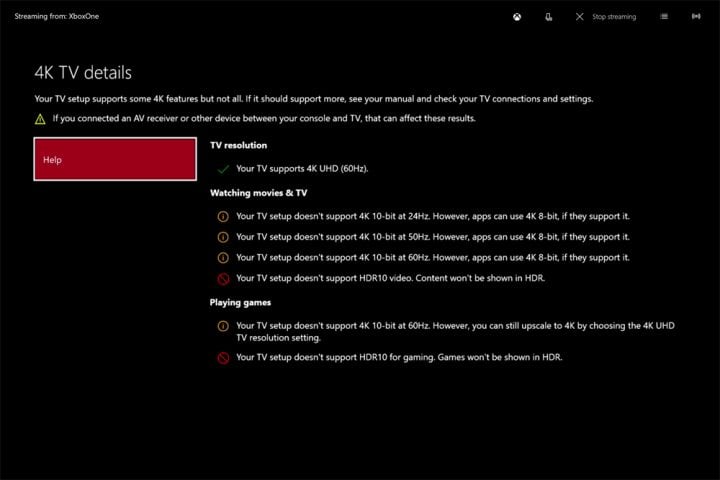 Read: Xbox One S vs PS4 Pro
Netflix, Amazon Video and Hulu all have 4K libraries available to subscribers. The Blu-ray drive inside the Xbox One S allows for 4K UHD Blu-ray playback, too. 4K video streaming works as you'd expect – everything looks crisp. You'll find yourself noticing details that you didn't see when watching the same stuff before. The Xbox One S isn't powerful enough to play games at 4K resolution. Instead, it upscales a game's regular resolution to 4K. It does the same with HD video content. Here, again, is where good software comes in; you can set the console to default back to HD resolution automatically when 4K content isn't available.
To get true HDR10 and 4K video support in a PlayStation, gamers have to pay $399 for the PlayStation 4 Pro because the PlayStation 4 Slim only offers HDR10 and not what's considered "true 4K" video streaming and gaming. It also lacks a 4K UHD Blu-Ray drive, as Sony opted to keep the basic one from the original PS4. That being said, the PS4 Pro does offer better looking games than the upscaled 4K experience that the Xbox One S has — provided the developer has added support for it.
Read: Xbox One S vs PS4 Slim
The Xbox One S' software has some very rough edges still.
Going back to the Home screen from an app or game sometimes takes more time than it should. Not only is the Windows Store built into the Xbox One light on well-made apps, its 4K UHD movie library is almost non-existent. There are a few movies available for purchase, but nothing I suspect anyone in their right mind will buy. It's as if someone forgot to tell the store team that the Xbox One S would have 4K video.
Xbox One S Review: Should You Buy?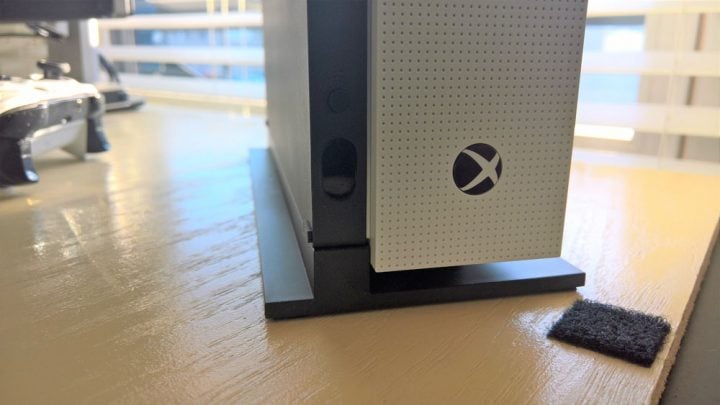 If you have an Xbox One and a 4K television, you'll absolutely want to upgrade to the Xbox One S. You're not getting more than better picture and a streamlined design. That's ok.
Read: Xbox One vs PS4: Which Should You Buy for Holiday 2016?
What Microsoft needed to do with the Xbox One S is pretty itself up for newcomers that might be tempted by the PS4 Slim or the PS4 Pro. It needed to polish the rough edges of Xbox One's hardware flaws and provide some new technology for the latest display standards. The Xbox One S doesn't exceed that mandate, but it does meet it. In fact, it meets that mandate and manages to still be $299.
If you're just getting around to upgrading your living room console, I see no reason not to consider the Xbox One S. Just make sure that it has all of the exclusive games you're looking for.