Xbox One S vs PS4 Slim: Which Is Better for 4K & HDR Video and Games?
(Update) An earlier version of this piece incorrectly said that the PS4 Slim supports 4K resolution upscaling for games and 4K video content. That was incorrect and the text has been updated accordingly.
It's in technology's nature to rapidly evolve and adapt. Smartphones, tablets, television sets and even cars get meaningful upgrades year after year. Video game consoles have always been outliers when it comes to evolution. It's not that they don't evolve. They evolve at a pace slower than other types of devices. Just look at the Xbox One S and the PS4 Slim.
Both the Xbox One S and PS4 Slim are evolved versions of devices that already existed. Microsoft and Sony launched the original Xbox One and PS4 back in the fall of 2013, after nearly a decade of relying on older hardware, processors and software for their gaming experiences. Software upgrades have added new features and enhanced some options that were already there, but that's it.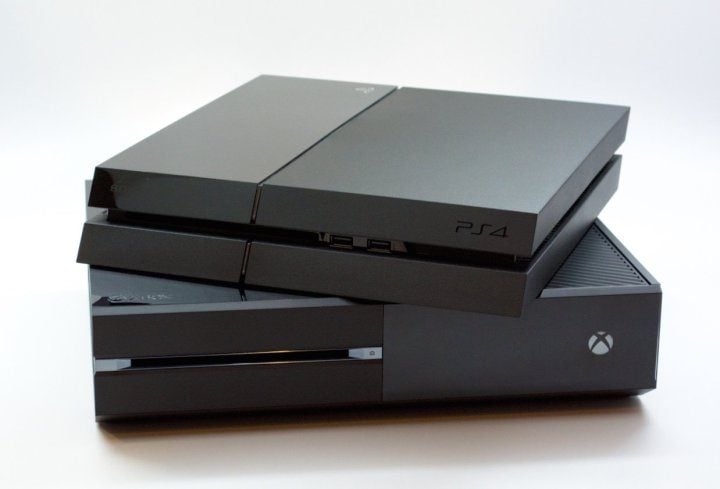 Despite being the first-ever hardware revision of their respective console families, both the Xbox One S and PS4 Slim have gamers asking the same questions. Is it really worth upgrading to a newer version of what's essentially the same console you own already? Console gamers that have yet to purchase a current generation system are asking whether either console gives them a clear reason to make the leap to the newest technology now.
Read: Xbox One S vs PlayStation Pro
Answering both questions involves breaking down the Xbox One S vs PS4 Slim's specs and upgrades to understand what they are and what they absolutely are not.
Xbox One S vs PS4 Slim: New Welcoming Mats
Accurately comparing the Xbox One S and the PS4 Slim requires context. Video game console makers are slowly starting to realize that their hardcore fanbases want more than just hardware refreshes every three to four years – especially, when those hardware refreshes only include changes in physical size and maybe a few new features. To that end, both companies are cooking up mid-generation upgrades that include huge upgrades in hardware. Microsoft calls its significant hardware upgrade Project Scorpio. Sony calls its huge hardware upgrade the PlayStation 4 Pro.
The Xbox One S and PS4 Slim aren't for hardcore gamers that want these types of upgrades. They're welcome mats, consoles designed to offer users access to their platforms for a reasonable price.
Xbox One S vs PS4 Slim: Hardware Changes
Announced at E3 2016, Microsoft designed the Xbox One S to provide the same experience the original Xbox One did, but in a smaller package. The console still includes HDMI out, HDMI in, Optical audio, 3 USB 3.0 ports and a slot loading Blu-ray drive. That's not to say that the ports line-up has gone unchanged. Microsoft removed the Kinect for Xbox One port altogether, preferring that users buy a USB adapter for the sensor instead.
Read: Which Xbox One S Bundle Should You Buy?
There's no embarrassing power brick to stash behind your electronics with this new upgrade. A new Xbox One Wireless Controller included with the Xbox One S lets users connect it to their PCs without a special adapter. It also has textured grips, sort of like those on the PlayStation 4's DualShock 4 Controller. An IR receiver lets the console communicate with set-top boxes and televisions without a Kinect.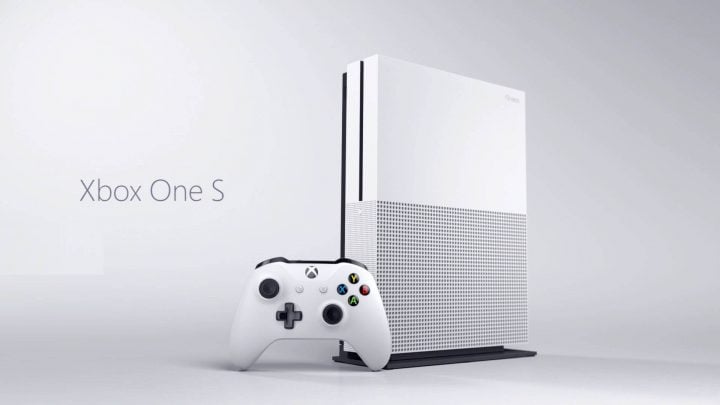 The PS4 Slim is a great deal smaller than the console that it replaces too. Sony rounded the sharp edges of the console and spaced out its front-facing USB 3.0 ports. HDMI, USB, Ethernet and a power port still sit on the matte black console's backward facing edge. One port missing is the Optical Audio port. It's been removed.
With this console introduction, Sony issues its first upgrade to the DualShock 4 Controller. The controller can now communicate with PCs and the PS4s directly through a USB cable. Previously, when plugged in the controller still used wireless radios. A lightbar above the controller's touchpad lets developers provide a glanceable notification of where a player's health levels are.
Xbox One S vs PS4 Slim: 4K & HDR
Both consoles make fine first purchases. Once old hands get past their refreshed looks and updated stylings, they'll realize there are only two reasons for them to rush out and purchase either one of these. They are HDR and 4K support.
HDR, called High Dynamic Range, is an emerging technology that lets displays show a wider gamut of contrasting colors than what we're used to. The Xbox One S and PS4 Slim support HDR technology, so long as the television that they're connected to also supports it. With a wider gamut of colors, things can be closer to the color they are in real-life.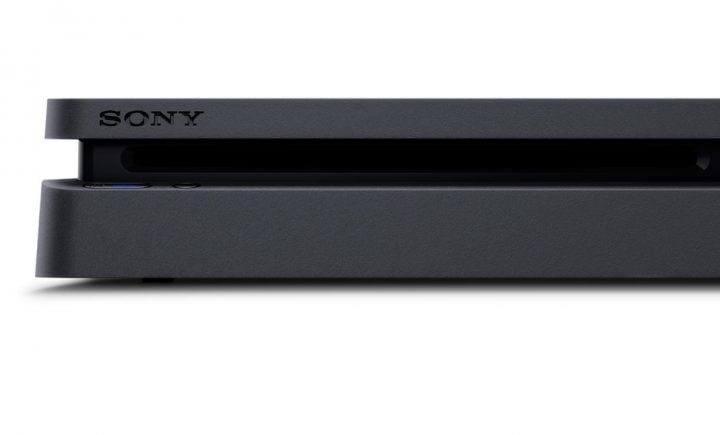 While you need an Xbox One S for HDR, you don't need a PS4 Slim. Sony intends to bring HDR to older PS4s too. The technology works on both games and video content. Netflix will provide 4K streaming video content on the Xbox One.
NBA 2K17 will be the first Xbox One game to support HDR. It'll be followed by Forza Horizon 3 and Gears of War 4. 2K Games has confirmed that NBA 2K17 for PS4 will get HDR support sometime in the future, but we're unsure when. Naughty Dog is prepping upgrades to the Last of Us and Uncharted 4 to support HDR & 4K in the PlayStation 4 Pro. It's hard to imagine that those HDR upgrades won't come to owners of the other PS4 systems.
Read: 4K Television: What You Need to Know, What You Need to Watch For
With 4K, things get a little complicated. 4K is shorthand for a display resolution that covers four times as many pixels as standard high-definition. The Xbox One S supports 4K video streams, but doesn't support gaming at full 4K. Instead, it upscales lower resolutions to fill a 4K television while trying not to add too much distortion. For gaming at full 4K resolution, you're going to need the Xbox Scorpio or PlayStation 4 Pro.
The Xbox One S has one surprise advantage where 4K video is concerned. Microsoft's console handles 4K Blu-ray discs, which is something the standard Blu-ray drive inside the PS4 Slim doesn't do. It's a strange twist considering Sony owns the Blu-ray format. Obviously, if you own 4K Blu-rays or plan too, the PS4 Slim isn't the right console for you.
Xbox One S vs PS4 Slim: Which To Buy?
If you're trying to get the best visuals today, the Xbox One S is the clear winner. 4K video streaming, upscaled 4K gaming and 4K Blu-ray content push it over the top.
That being said, the Xbox One S won't remain at the top of the heap for very long. Buy the Xbox One S if you're not set on staying in Sony's ecosystem. If you've owned a PlayStation in the past, its better to wait for the PlayStation 4 Pro for its 4K support.

As an Amazon Associate I earn from qualifying purchases.